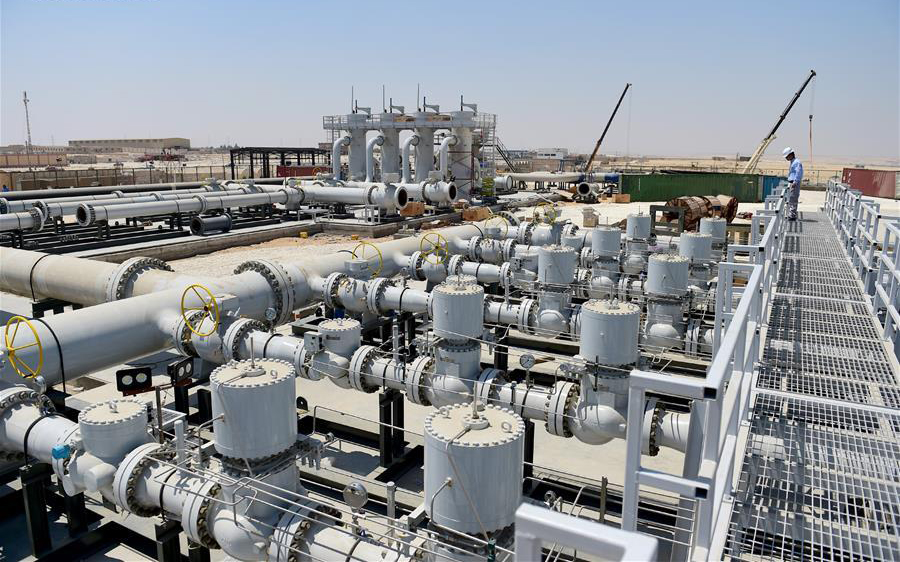 photo by:news.xinhuanet.com
BENI SUEF,Egypt, July 11 (Xinhua) -- The first gas regulator station operated by a Chinese company in Egypt will be operational in September, a company representative said Tuesday.

The Beni Suef station, operated by China Petroleum Technology & Development Corporation (CPTDC), a subsidiary of China National Petroleum Corporation (CNPC), will start pumping natural gas in September, Qitang Li, a CPTDC representative in Cairo told Xinhua.

CPTDC signed a 20-million-dollar deal with Egyptian Natural Gas Company (GASCO) in 2016 to establish three gas regulator stations in Egypt.

Under the deal, the Beni Suef station, 150 km south to the Egyptian capital Cairo, will start operating in September, while the other two stations at Burullus city and the new administrative capital will start assembling work soon, Li said.

"The full capacity of Beni Suef station is 920,000 standard cubic feet per hour, making it one of the biggest gas regulator stations in Egypt," said Wenqing Li, project manager of the CPTDC team, adding that it will regulate gas to the 4.8 GW combined cycle power plant built by Siemens.

CPTDC offers cutting-edge technology and fine craftsmanship at competitive prices, he said.

"We hope this station will pave the road for laying foundation of more cooperation with other Egyptians companies," he added.

The three Chinese-made gas regulator stations will regulate the temperature, air pressure and flow speed of raw gas according to Siemens standard, said Ahmed Khalid, GASCO's combinations engineer in Beni Suef power plant.

"We have finished assembling the main machines. The control panel, control room, heaters and some other devices will be delivered by China in the coming few weeks," he said.

Winning the bid among 18 companies from around the world, CPTDC has provided GASCO with "the best and most affordable offer," said Assem al-Qabbany, another GASCO engineer, adding the Chinese team who work with GASCO is very cooperative and keen to provide all aids.

Explaining the technique of how the station works, al-Qabbany said the CPTDC's stations in Egypt will receive raw gas coming from GASCO, the country's main gas provider, and process it by three stages: filtering, metering and regulating.

Covering an area of 500,000 square meters, the Beni Suef Siemens plant will be capable of providing electricity to approximately 15 million Egyptians when it becomes full operation by the end of 2017.

In March, Egyptian President Abdel-Fattah al-Sisi and German ChancellorAngela Merkelwitnessed the symbolic inauguration of the first phase of Siemens' mega project in Egypt.

The mega project, comprising three combined cycle power plants and 12 wind parks, will generate a total output of 16.4 GW, which are eight times as much as the output of the Aswan High Dam. The mega project is expected to boost the country's power generation by approximately 50 percent by May 2018.