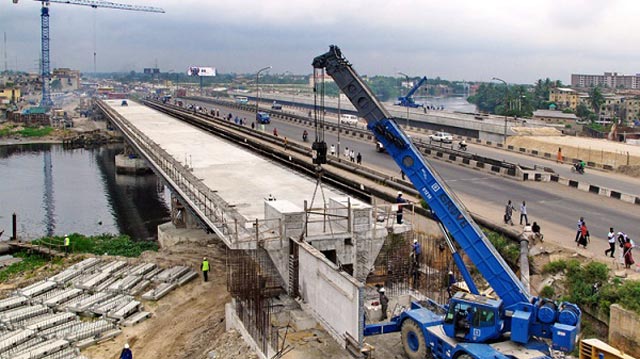 photo by:The Guardian Nigeria
Nigeria has significant infrastructure investment gap put at $878 billion out of $97 trillion global needs, to address economic growth and existing shortfalls from now till 2040.
This is necessitated by a growth forecast at a yearly average rate of 4.1 per cent of Gross Domestic Product (GDP) and population increases at a yearly rate of 2.4 per cent during the same period.
Yesterday, a report by G20's Global
Infrastructure
Hub (GI Hub), covering infrastructure investment needs globally and individually for 50 countries and seven sectors, said Nigeria's share of the global gap also include, electricity spending at over $267 billion by 2040.
According to the report, every year, $3.7 trillion is expected to be invested in infrastructure to meet the demands of an accelerating global population, the equivalent of total yearly GDP of Germany.
Correspondingly, Nigeria is expected to make an average of about $38.2 billion yearly for the next 23 years to beat the gaps.
Worrisome however, is the fact that government's spending, based on current trends suggests a shortfall of $221 billion, representing about 24 per cent of the requirement, according to the report.
The report, Global Infrastructure Outlook, which reveals the cost of providing infrastructure to support global economic growth has pointed out that $18 trillion, almost 19 per cent, of the $97 trillion, would be unfunded if current spending trends continue.
The Chief Executive Officer, GI Hub, Chris Heathcote, said: "Outlook is a comprehensive and detailed analysis of infrastructure investment need. It gives the new country and sector spending data that governments and funding organisations have been calling for.
"It tells us three key things, how much each country needs to spend on infrastructure to 2040, where that need is for each infrastructure sector, and what their gap is, based on their current spending trends."
Already, meeting the United Nation's Sustainable Development Goals (SDGs) for electricity and clean water provision globally, which is part of the infrastructure needs, will require $3.5 trillion more than is currently needed to close the gaps.
To achieve the SDGs for electricity and water, a further $187 billion will be needed by 2030, bringing the overall investment needs to $ 1.06 trillion.
GI Hub also noted that the situation is not just a major challenge for emerging countries that need to create new infrastructure, but also for advanced countries that have ageing systems.
United States will have the largest gap in infrastructure spending, at $3.8 trillion, while China will have the greatest demand, at $28 trillion, representing a massive 30 per cent of global infrastructure investment needs.
By 2040, the global population is estimated to increase by almost two billion people, a 25 per cent upsurge, while rural to urban migration continues with the urban population growing by 46 per cent, triggering massive demand for infrastructure.
The world's greatest infrastructure needs will be in Asia, which will require $52 trillion by 2040 to meet demand.
The road and electricity sectors require the greatest spending as the global population becomes increasingly urbanised.