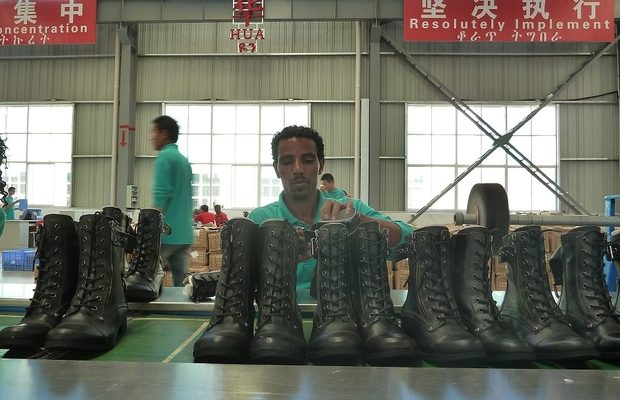 Image from Internet
A Chinese manufacturing tycoon plans to bring 100,000 new jobs to
Ethiopia
, pledging that his company will help the country to become a new international manufacturing hub.
"By building factories in Ethiopia, our company has created significant fiscal revenue for local authorities and offers more job opportunities for citizens. In return, we have enjoyed cheaper production costs and preferential land policies," said Zhang Huarong, president of major Chinese
footwear
producer Huajian Group, at a seminar held by the Center for China & Globalization on March 8.
First opened in 2012, Zhang's shoe factory has become a major enterprise in Ethiopia. Its humming production line has created job opportunities for 6,000 locals, offering them an average salary of around 500 RMB per month, a number that is slightly higher than the country's per capita income. The company has also helped local authorities to obtain more foreign exchange, as its products are favored by many Western companies, including Ivanka Trumps' eponymous shoe line.
"The harsh living conditions in African countries has scared away many Western companies. Chinese companies, on the other hand, have been working hard to bring
industry
to Africa," said Zhang.
Denouncing Western media's accusations of neocolonialism on the part of China, Zhang noted that Chinese companies have not only helped to spur the development of local economies, they have also brought advanced technologies and management concepts to the continent, offering African nations the opportunity to reshape their economic structures.