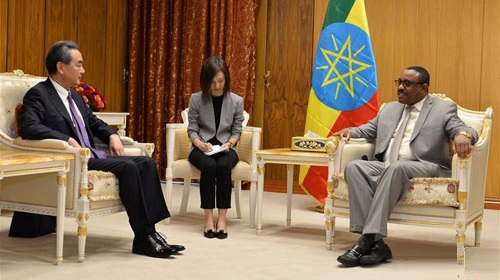 Image from ww.semonegna.com
As Ethiopia, the most populous nation in East Africa, is spreading its economic relations across the globe, investment from the world's most populous nation China is playing a prominent role.

Ethiopia, with a population of some 100 million, is a country on the move with rail, air and road infrastructure projects and an ambitious industrialization plan.

Job Opportunities

Ethiopia keenly needs investment from industrial giants like China to give its burgeoning population, which is estimated to grow by 2 million annually, ample employment opportunities.

According to the Ethiopian Investment Commission (EIC), there have been 279 Chinese companies with more than 571-million-U.S.-dollars worth of Chinese investment, creating more than 28,300 jobs in Ethiopia between January 2012 and January 2017.

Huajian Industrial Holding Company Limited, a Chinese company that has a long-term investment plan in Ethiopia, is operating two plants in the country.

Yin Xinjun, Vice General Manager at Ethiopia Division of Huajian Industrial Holding Company Limited, says Huajian's decision to have its first plant in Ethiopia stems from the country's firm desire for industrialization.

In fact, a personal call for more Chinese investment by late Ethiopian Prime Minister Meles Zenawi during an August 2011 visit to China is what motivated initially Huajian to invest in Ethiopia, says Yin.

According to Yin, Huajian's investment in its first African plant had overcome several challenges, including logistical ones.

Huajian initially had to transport its goods through an overcrowded highway from the plant in landlocked Ethiopia to Djibouti port.

The problem has been partially solved with the construction of the 85-km Addis Ababa-Adama Expressway funded partly by the Export-Import Bank of China (China EXIM bank) and built by China Communications Construction Company (CCCC).

The 500-million-dollar expressway was inaugurated in May, 2014.

Huajian also had to face intermittent power and water outages. The Ethiopian government later solved this problem through a special water and power line for the Eastern Industry Zone where Huajian's first plant is located.

Overcoming these challenges, Huajian currently employs more than 4,000 Ethiopians with a plan to increase employment to 50,000 people by 2022.

Having established a plant in the Dukem industrial zone, 37 km south of Addis Ababa, Huajian is currently building a massive 138-hectare international light industry city in Addis Ababa.

With the completion of the light industry city, Huajian foresees increasing its export revenue from 30 million dollars in 2016 to 4 billion dollars by 2022.

Sustainable Partnership

With Ethiopia-China trade reaching 6.15 billion dollars in 2015, growing 22.2 percent annually in the last several years, China has become Ethiopia's largest trading partner.

However Western critics warn Ethiopia of being trapped in a neo-colonial relationship and some Ethiopians wonder if the Ethiopia-China relationship comes at the expense of other countries.

Gedion Jalata, Program Manager of Africa-China Dialogue Platform at Oxfam International, says both views miss the mutual beneficial and sovereignty respecting aspect of the bilateral relations.

Gedion points out that Ethiopia is one of the beneficiaries of the China-proposed Belt and Road Initiative.

Proposed in 2013, the Belt and Road Initiative aims to build trade and infrastructure networks connecting Asia with Europe and Africa on and beyond the ancient Silk Road routes. It comprises the Silk Road Economic Belt and the 21st Century Maritime Silk Road.

Ethiopia has joined the Asian Infrastructure Investment Bank (AIIB). China is the largest shareholder of the AIIB with 27.5 percent of voting rights.

"Ethiopia's foreign policy is multifaceted, with anti-terror fight collaboration with the west, and the country receives development assistance in soft infrastructure such as education from the UK, on health related issues from the U.S., on hard infrastructure from China and on sugar development from India," he says.

Gedion also argues that both Ethiopia and China have similar development process, which adds to the mutual understanding of their needs and capabilities.

"China in recent living memory was a poor country, with people aspiring to be developed and rich and it still has infrastructure need, so China understands the infrastructure need of Ethiopia's development," adds Gedion.

Industrial Park: A Game Changer

While Ethiopia is attracting massive Chinese investment in infrastructure projects, the Ethiopian government has set its sight in particular on Chinese involvement in industry parks.

Ahmed Shide, Ethiopia's Minister of Transport, says the country plans to utilize Chinese built infrastructure to boost its industrial exports.

Ahmed is especially keen on the 4.2-billion-dollar Chinese built and financed 756 km Ethiopia-Djibouti electrified rail line to boost its industrial exports.

The electrified rail line, the first trans-boundary electrified rail line in Africa, is expected to start commercial operation in October.