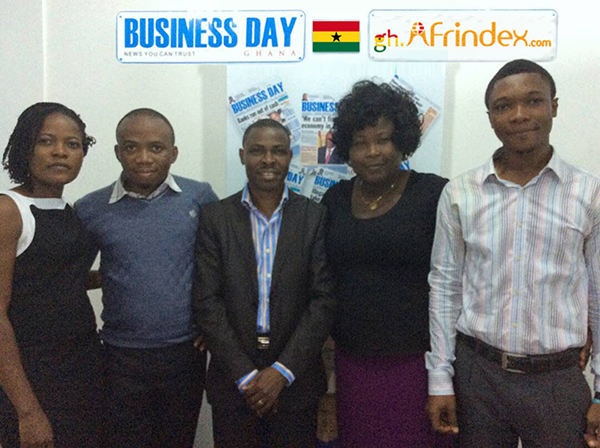 (China-Africa Trade Research Center news) Under the instruction of the Chinese "Belt and Road" strategy, an increasing number of Chinese firms are ready to "go out" and explore global markets especially African market. Taking this opportunity, Business Day Ghana Ltd., works together with Afrindex to co-establish Ghana Trade Website with the core idea of "co-establishing; co-operation; win-win", aiming at strengthening trade links between China and Ghana and promoting the mutual economic development.

It is reported that Ghana Trade Website is the Western Branch site of Afrindex—The African trade carrier. Ghana Trade Website adopts Afrindex's numerous advantages, which are in fully conformity with Ghana users habits and Western African markets features. It's going to be Western Africa's largest trade match-making portal, laying the groundwork for Chinese firms' Africa local promotion and market development.

Speaking to China-Africa Trade Research Center, Afrindex's director of international operations Claire Ye explained the reason Afrindex chose to cooperate with Business Day Ghana, is for its strong influence in Ghana and neighboring countries.

"Business Day Ghana Ltd., is an authoritative business media in Ghana, which makes it meeting the demands of Afrindex. We hope our cooperation will be able to connect more premium customers for Chinese companies with win-win development, and at the same time to help connect Western Africa's excellent resources closely with the world,"Claire said.

Business Day Ghana Ltd., is one of the most influential media group in Ghana. Business Day Ghana as its newspapers is targeted at corporate decision-makers, policy makers, Business Schools, as well as international institutions, companies and investors with interest in Ghana and beyond. In addition, its specialist contributors present most complex business subject with clarity, untangling issues affecting the Ghanaian and the global economy through concise and informed articles.

The CEO of Business Day Ghana Ltd., looks expectantly toward this cooperation. "A lot of partners of us have shown great interests in cooperating with Chinese companies. That's why we chose to join hands with Afrindex. We believe that only under the strong instruction of Chinese 'Belt and Road' policy can we get into contact with and establish reliable links with Chinese enterprises. Only in this way, can we promote the development of China and Ghana trade. This is also the original intention of co-establishing Ghana Trade Website with Afrindex,"Felix said during an interview.

It is known that Afrindex.com belongs to Afcan China, with three main websites clusters under Afrindex African Trade Carrier as follows:

6 African service platforms clusters: Afrindex Investment Network, China-Africa Trade Research Center, China-Africa Supply Chains Network, China-Africa Talents Network, China-Africa Exhibition Network, Afrindex BBS;

6 industrial websites clusters: China-Africa Electromechanical Network, China-Africa Building Materials Network, China-Africa Textile Network, China-Africa Chemical Network, China-Africa Food Network, China-Africa New Energy Network;

10 African countries' trade websites cluster: Morocco Trade Website, Kenya Trade Website, Ivory Coast Trade Website, Ghana Trade Website, South Africa Trade Website, Nigeria Trade Website, Uganda Trade Website, Ethiopia Trade Website, Tanzania Trade Website and Algeria Trade Website.

Afcan's original Afrindex-SAS (Steward Type African Promotion Service)system providing one stop match-making service for China-Africa trade, aiming at making African trade easier.

Ghana Trade Website as Afrindex's branch site in Western Africa is currently under construction. In addition, the Southern branch site and Northern branch site are around the corner. With an open mindset of "co-establishing; co-operation; win-win", Afrindex welcomes all kinds of partners to join us and explore African markets.