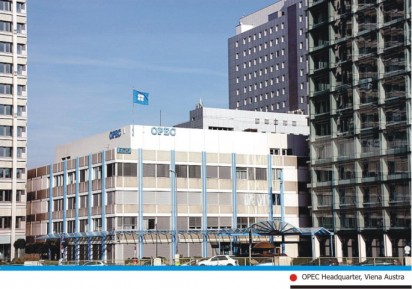 photo by:vanguardngr.com
The Organisation of Petroleum Exporting Countries, OPEC oil output rose in July by 90,000 barrels per day (bpd) to a 2017 high, led by a further recovery in supply from Libya, one of the countries exempt from a production-cutting deal, a Reuters survey showed.

Even against this development oil prices hit a two-month high yesterday, lifted by a tightening US crude market and the threat of sanctions against OPEC-member, Venezuela.

OPEC basket was USD51.9 per barrel while Brent crude futures were USD52.90 per barrel, their highest since May 25, and West Texas Intermediate (WTI) futures were up 16 cents or 0.3per cent at 49.87 dollars per barrel.

The price rise put the crude benchmarks on track for a sixth consecutive session of gains.Prices have risen around 10 per cent since the last meeting of leading members by OPEC and other major producers, including Russia. The group discussed potential measures to further tighten oil markets.

According to a Reuters survey, a reduction in supply from Saudi Arabia and lower Angolan exports helped to boost OPEC's adherence to its supply curbs to 84 percent. While this is up from a revised 77 percent in June, compliance in both months was said to have fallen from levels above 90 percent earlier in the year.

The extra oil from Libya means supply by the 13 OPEC members originally part of the deal has risen far above their implied production target. Libya and Nigeria were exempt from the cuts because conflict had curbed their production.

According to the survey, a gain in Libyan and Nigerian output has added to the challenge the OPEC-led effort is facing to get rid of excess supply on world markets. To address this, ministers at a July 24 meeting moved to cap Nigerian output and officials are holding talks next week on improving compliance.

"There is a need to align all countries to achieve full compliance," a source close to OPEC said of the compliance talks, which will be held on August 7-8 in Abu Dhabi.

As part of a deal with Russia and other non-members, OPEC is reducing output by about 1.2 million bpd from Jan. 1, 2017 until March next year. High compliance with the deal, and much-reduced output in the exempt countries, pushed supply lower earlier in the year.

However, extra Libya and Nigerian production has prompted output to rise since May, and adherence has slipped in some other countries.

July's biggest rise was said to have come from Libya, where output, curbed by years of conflict and unrest, rose to an average of more than 1 million bpd. Production remains short of the 1.6 million bpd Libya pumped before its 2011 civil war.

Iraqi supply was revised up for June and in July output has edged higher, the survey found. Supply also increased slightly in the United Arab Emirates, Gabon and Ecuador, which said it planned to pump more, citing its lack of funds.

Among countries with lower output, the biggest decline was in Angola, which exported 50 cargoes, two less than in June. August volumes are expected to increase.

Nigeria pumped slightly less in July after an increase in June, partly due to a force majeure (A clause included in contracts to remove liability for natural and unavoidable catastrophes that interrupt the expected course of events and restrict participants from fulfilling obligations) on Bonny crude exports. Growth could resume next month if exports reach the planned rate of at least 2 million bpd.

Saudi Arabia pumped 50,000 bpd less, the survey found, although output in June was revised higher to just above its OPEC target. The reduction achieved by OPEC's biggest producer in July is back above the target cut of 486,000 bpd.

OPEC announced a production target of 32.50 million bpd last year, which was based on low figures for Libya and Nigeria. The target includes Indonesia, which has since left OPEC, and does not include Equatorial Guinea, the latest country to join OPEC.

The Libyan and Nigerian increases mean OPEC output in July averaged 32.85 million bpd, about 1.1 million bpd above its supply target, adjusted to remove Indonesia and not including Equatorial Guinea. With Equatorial Guinea added, total OPEC production in July has reached 33.0 million bpd.