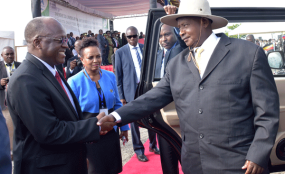 photo by:allafrica.com
President Museveni and his Tanzanian counterpart John Pombe Magufuli, last Saturday laid the first foundation stone for construction of the proposed East African Crude Oil Pipeline (EACOP), as a gesture for joint political will, for the development of the multi-billion dollar project within the stated timeframe.
The event that attracted hundreds of residents at Chongoleani, in the northerly seaport city of Tanga in Tanzania, also symbolised the start of the construction of the $3.5b (about Shs12.6 trillion) pipeline. It will run from Hoima in mid-western Uganda to Tanga port at the Indian Ocean.
Actual construction is expected to start early next year and to be completed by 2020, if all goes according to plan, including timely securing of financing from the international lenders.
The two head of states assured that the project will not be held back by the customary profuse bureaucracy, which in Uganda has imperiled nearly all large infrastructure projects as government officials scheme for kickbacks.
President Magufuli, known for his unorthodox work methods of cracking whip on incompetent and corrupt bureaucrats, said three years are enough to start and complete construction of the 1,445 km pipeline.
"Three years are too long and you can finish before that time if you work day and night," he said in his speech at Tanga.
Last year in April, government settled for the Tanga route as destination for Uganda to export its crude oil to the international market, ditching the Kenyan route on grounds of being expensive despite being shorter route compared to the former.
The Tanga route was selected on basis among other factors transit fees of $12.2 per barrel (Shs40,321), environmental considerations, flat terrain profile, limited infrastructure constraints, Tanzania's convenient land tenure system, and Tanga port being conveniently available for use.
Tanzania also agreed to several concessions like waiving corporate tax and value-added tax (VAT) to reduce the cost of the project, depreciation tax holiday for 20 years and free (land) corridor, and acquisition of shares in the project.
President Museveni, who was accompanied to Tanga by officials in the ministries of
Energy
, Foreign Affairs, Finance and East African Community, said Tanzania and Uganda should not be taken as sole beneficiaries of project but rather the entire region.
"There are already hydro-carbon resources detected in Eastern Congo, the Semliki valley; there are confirmed hydro-carbon resources in the Turkana area of Kenya; there are also possibilities of hydro-carbons in Tanzania, Rwanda and Burundi," he said.
As a result of oil discovery in the region, Mr Museveni, said "East Africa and specifically Uganda is respectable now. We are ready for transformation of our people. We don't want a peasant to generate another peasant."
The President described Tanga as a "historical place" having been a base by some Ugandan dissidents led by former President Apollo Milton Obote in the first against the Idi Amin's regime.
"Mwalimu (Julius Nyerere) and I, always discussed and agreed on many things including the need for a railway line from Tanga to Musoma," he said. "The Hoima-Tanga Pipeline is not a bad substitute."
A thorough financing blueprint for the project remains in the pipeline but preliminary information indicates that the two countries, backed by the French oil giant Total E&P which backed the Tanga route and later bulldozed ITS partners Tullow and Cnooc, will be turning to international lenders to raise 70 per cent of $3.5b capital expenditure for construction.
The remaining 30 per cent capital will be raised through equity by the JV partners, France's Total, Anglo-Irish Tullow and China's Cnooc, and national oil companies of the two countries, Tanzania Petroleum Development Corporation and Uganda National Oil Company (Unoc)--for the latter carried through, a subsidiary, the Uganda National Pipeline Company.