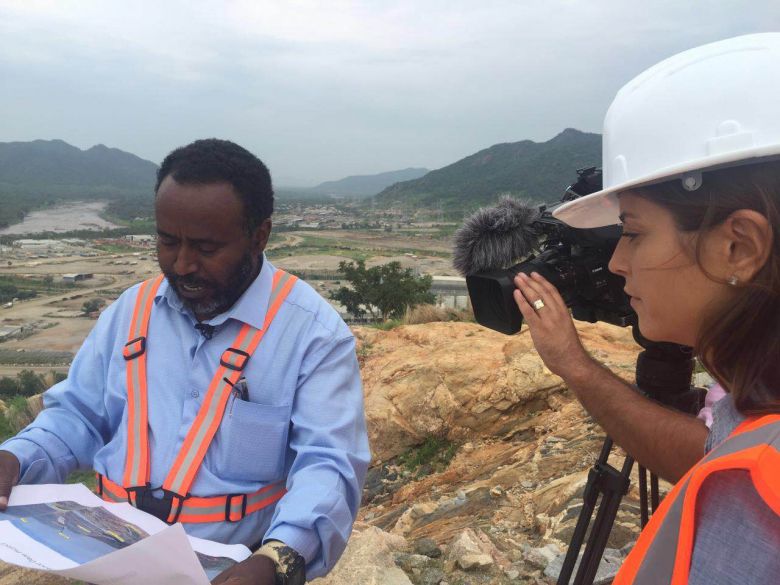 Image from Internet
The Ethiopian government on Monday disclosed that the construction of its Grand Ethiopian Renaissance Dam (GERD) has reached 60 percent completion rate.

The construction of the dam, which will be Africa's largest dam upon completion with a total volume of 74,000 million cubic meters, was started in April 2011 with a cost of 80 billion Ethiopian birr (about 4.7 billion U.S. dollars).

Disclosing the 60 percent completion rate of Ethiopia's landmark energy production project, Debretsion Gebremichael, Ethiopia's Minister of Communication and Information Technology who is also Board Chairman of Ethiopian Electric Power Corporation, said that construction activities are well underway despite the approaching Ethiopia's major rainy season.

The engineering, procurement and construction (EPC) contract of the GERD was awarded to the Italian company, Salini Costruttori.

Debretsion, who visited the progress of the Grand Renaissance Dam at the construction site, also revealed that preparatory works are underway to commence preliminary electric power generation.

Aimed primarily at generating electric power, with an expected capacity of 6,450 megawatt, the Ethiopian government has regarded the construction project as an impetus towards the country's drive to renaissance.

The GERD project, owned and financed by the Ethiopian government, is under construction in Ethiopia's Benishangul-Gumuz regional state on the Blue Nile River, located some 40km east of Ethiopia's neighboring country Sudan.

Ethiopia, Sudan and Egypt have formed a tripartite committee back in 2012 to create understanding and look into the benefits and impacts the project would have on the three countries.