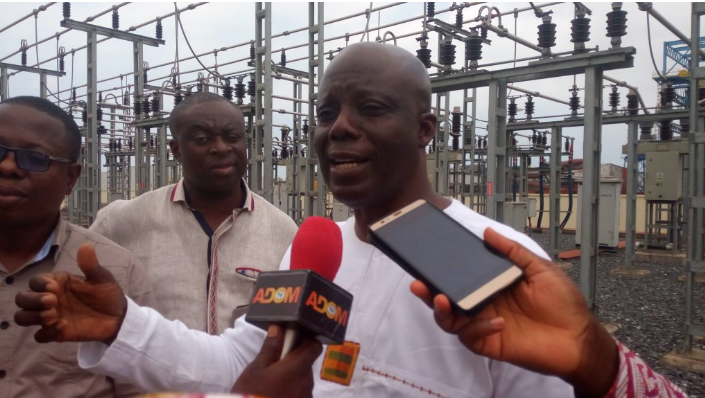 Image from http://thechronicle.com.gh
In its attempt to improve upon the supply of power to its customers in the Tema region, the Electricity Company of
Ghana
(ECG) has installed a new outdoor 132 MVA sub-station at the Tema Industrial Area.
Dubbed the Smelter II, the facility, which is the first of its kind in the Tema region, is to give customers of the company better and reliable services.The facility cost the company about US$2.2 million, and almost GHȼ3.3 million to acquire.
This is the first outdoor substation in the Tema region. So far, there are three substations in the region, the first, which is indoors, is at Tema, followed by another indoor at Kpong, and this new one.
The Tema region starts from Central Tema and extends all the way to Ada, in the Damgbe East District, right through Somanya, in the Manya Krobo District, all in the Greater Accra and Eastern regions.
Conducting reporters round the facility, Mr. Wiafe, Tema Regional Engineer of ECG, said with this substation, about 75 percent of their customers will not see power outages, because they can easily transfer the entire load from the old sub-station to this new one to ensure reliability.
He said: "This does not mean there will be no more
power
outages, because power outages are caused by many factors, which means that the capacity could be there, but the network can develop a fault."
He posited: "This sub-station is purposely to increase reliability, that is, to make sure that the power is there. If the industries are not working, then it means everybody, domestically, would get power. It is linked up with two transformers with 66MVA each from GRIDCo.
"The system is such that there are four main lines coming from GRIDCo, and even if three of them are off, one will still be working, and the probability that three of them will go off is very small. So, you can see that the reliability is high."
Mr. Wiafe continued: "We have five lines that are expected to go out, three will be going to the industrial area and two to Dawenya, Affordable, Community 25, and can go as far as Morbole through Ashaiman and return to this station. It's a ring.
"And the other one, from here will go to the Affordable, Community 25 and Dawenya, and go as far as to Ada, and from here it can go through our industrial feeders to our station at A, and go as far as to Nungua, depending on the available load at the time. In effect, the facility is to enhance our network and make it more flexible and easier for all of us," he assured customers.
Explaining why they decided to acquire an outdoor substation, he noted that both the outdoor and indoor have their advantages and disadvantages.
According to him, with the indoor substation, when there is a fault they have to dig before they can identify it, but with the outdoor, at a glance, they can see and identify it.
"If there is a hot spot and you come in the night, all you do is to use the infrared camera, and you can identify the fault and work on it. But, with the indoor ones, you will not see any such thing."
The Tema Regional Engineer observed that there were four main lines coming from Gridco, while eight are going out, adding, "it is supposed to work with 132MVA. We can easily transfer load from the old sub-station, with a
capacity
of about 198 MVA, to the new one.