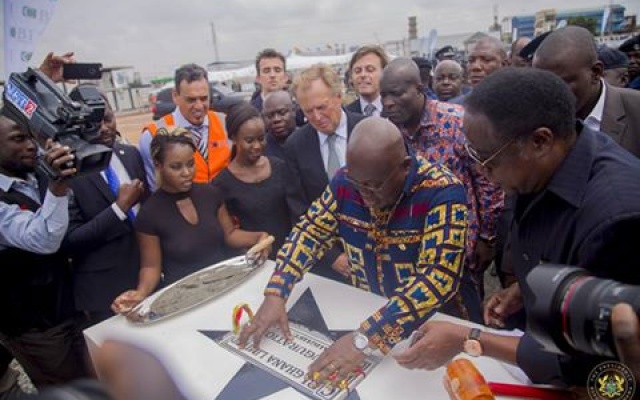 Image from https://www.ghanaweb.com/
President Nana Akufo-Addo has hailed the decision of the management of CBI Ghana and their partner, Lafarge-Holcim, to set up a cement factory in Ghana.

For President Akufo-Addo, the Supacem Cement expected to hit the local market soon shows the confidence of investors in the policies being implemented by the New Patriotic Party (NPP) government.

"I take it as a veritable vote of confidence in the steps my government is taking to make the private sector flourish, that a company, like CBI, has taken the decision to enter the economic space of our country," President Akufo-Addo said, as he laid foundation for the construction of a technologically advanced cement grinding factory for CBI Ghana at the Tema Free Zone Enclave on Tuesday, August 15.

CBI Ghana is affiliated to LafargeHolcim which operates in 90 countries, with 30 in Africa alone. LafargeHolcim is based in Switzerland, with its central functions divided between Zurich and Paris, France.

Supacem will launch with their "Fast Dry" 32.5R, which has met great success in pilot-testing with masons and block makers in Accra and Kumasi. It boasts the fastest one-day and two-day strengths of any 32.5R-grade cement in Ghana and meets the Ghana Standards Board GS 1118 and EN 197 quality standards.