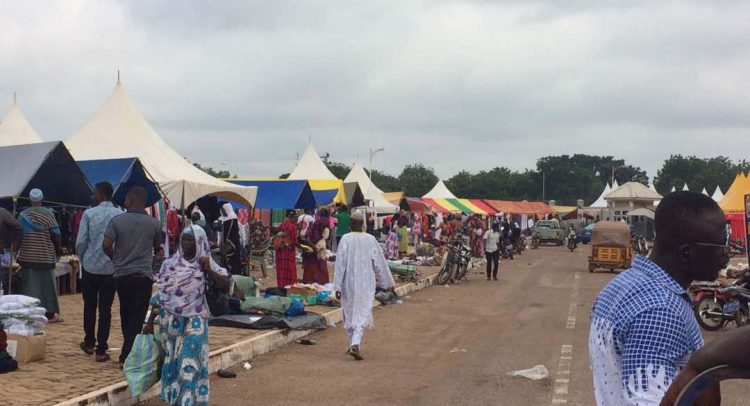 Image from http://dailyguideafrica.com
The Tamale Hajj Village has promoted business in the Northern Regional capital. Businesses are booming as pilgrims trooped into the Tamale Sports Stadium where they are being screened. Some business women and hawkers who spoke to DAILY GUIDE said they were happy with the turn of events and sales.

'Sales are encouraging and we hope it will get better as the days go by from today to the end of the Hajj'. Although some of the women claimed that, as compared to last year, business was slow attributing it to the change of location but they were much optimistic that subsequent days will see a rise.

One of the sellers at the stadium said "Sales is slow as compared to last year. Last year because the pilgrims were hosted at the Jubilee Park which is in the center of the town and that contributed to rise in sales. Here at the stadium, some of the gates are even locked making it difficult for prospective buyers in the area to enter the stadium."

Some estimated that about 510 pilgrims are expected to be airlifted to the holy land from Tamale.After the check-in and screening of the pilgrims at the Tamale Sports Stadium, they are bused to the Tamale International Airport where they will be airlifted to the holy land.

A durbar was organized at the Tamale Sports Stadium to mark the beginning of the Ghana Hajj 2017 project.The Vice President Alhaji Dr. Mahamudu Bawumia was the guest of honor at the Tamale Sports Stadium where he bade them farewell and wished them well in their sacred religious activity.

The flight, FLYNAS, is scheduled to take off at 8:30pm Thursday night and arrive at Medina 2:30am on Friday.