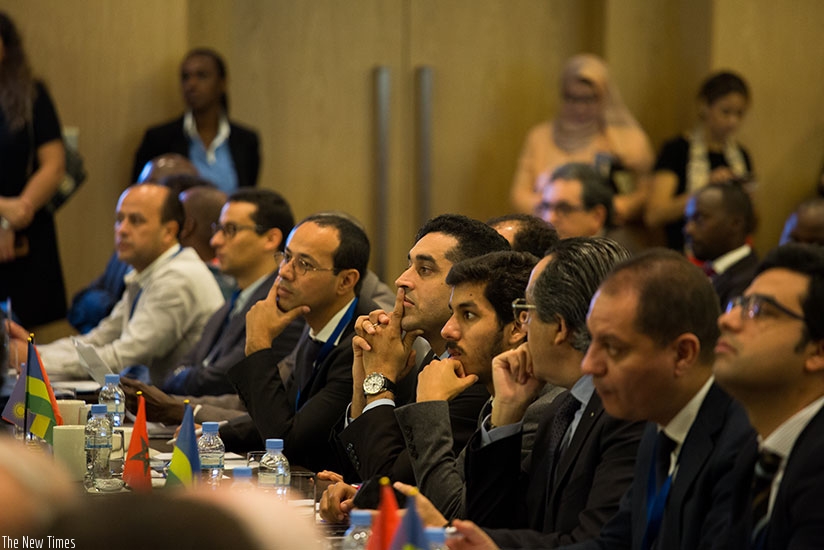 photo by:The New Times
Local businesses have signed trade and partnership deals with Moroccan counterparts, further strengthening relations between the two countries.

The deals were signed during a recent business trip to Casablanca, Morocco that was organised by Private Sector Federation (PSF) to link local firms with their Moroccan counterparts and explore new markets in the North African kingdom.

Francine Havugimana, the PSF second vice-chairperson, who led the delegation, said: "We wanted to explore investment opportunities in the Moroccan market, forge business partnerships, as well as tap into the existing opportunities in one of the world's emerging and enterprising markets."

Havugimana added that the Rwandan delegation included 13 people from different sectors, like manufacturing, construction, energy, tourism and hospitality, real estate development and general trading.

"Morocco is a potential market for our products, especially tea and coffee," the PSF official said in an interview on Friday.

"It was a successful trip and some local companies were able to sign partnership deals with their counterparts in Morocco."

Deals signed
Among the local companies that signed deals include Kinazi Cassava Plant Ltd. The firm will be exporting four tonnes of cassava flour every three months to Shungure Parfait, a proprietor of various food stores in Morocco, according to PSF. Sinda Group, another general trading company, penned an import agreement for refined cooking oil from Morocco, while Entreprise Continentale, dealing in pharmaceuticals, clinched a deal to register medical products from Morocco and file the returns with the Ministry of Health.

Exploit EAC market
Havugimana urged the Moroccan business community to take advantage of the EAC market of over 120 million people, saying several emerging economic sectors "remain mostly underserved".

"This presents an opportunity, not only for Rwanda and Morocco, but also for investors from other countries," she said.

She encouraged Moroccan investors to invest in Rwanda's strategic sectors, such as construction, energy, tourism and health services, all holding significant opportunity for growth. She said the construction sector is currently growing at an annual average of 5 per cent and is projected to continue to grow faster over the next five years as newly planned infrastructure projects are implemented.

She called on Rwandan and Moroccan businesses to build strong partnerships so that, together, they can establish sustainable competitive capacity needed to fulfill the aspirations of their businesses and countries.

The Morocco business operators said they are ready to partner with Rwandans, noting that Rwandans demonstrated that they are financially capable of representing Morocco factories and industries locally.

The Kingdom of Morocco and the Rwandan government recently signed partnership agreements in different sectors all aimed at strengthening bilateral cooperation.