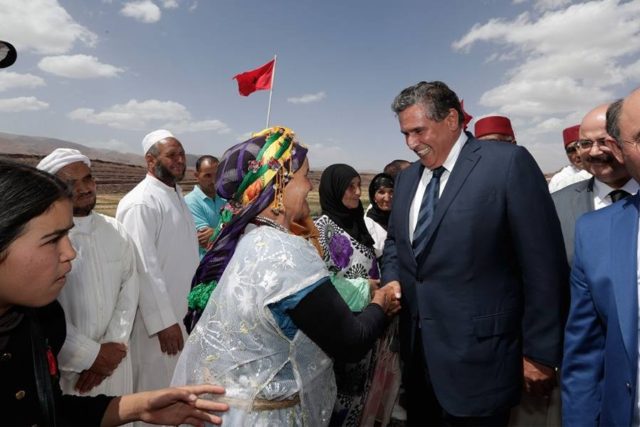 Image from https://www.moroccoworldnews.com
Rabat – Moroccan Minister of Agriculture Aziz Akhannouch inaugurated and supervised the developments of the realization of agricultural projects, with a total budget of MAD 1.8 billion, in Tinghir on Monday.

The projects, 39 in total, are part of Morocco's Green Plan and aim to promote local sustainable development by boosting agricultural activity and production, including that of date palms, olive trees, almond trees, aromatic plants, malus, saffron, henna, figs, red meat, and beekeeping.

Eighty-five percent of the date palms project has been completed. The project extends over an area of 28,000 hectares in the oases of Draâ, Todgha, Maider, Aliat Draâ and Bani, aimingto reconstruct irrigation networks over 224 kilometers and plant 900 thousand trees and building up two dams.

It also aims to build 18 cooling and stock-keeping units with a capacity to store 3100 tons. The overall budget of the project is MAD 777 million.

In the municipality of Iknioun, a MAD 43.5 million projects aims at reconstructing irrigation networks, digging 15 wells, installing solar energy equipment, and planting 500 hectares of almond trees.Eight-hundred other malus trees are due to be planted in the municipalities of Asemrir and Tilmi.

Other projects include boosting irrigation performances of local municipalities, preserving farming lands, building diversion dams, boosting agricultural production and help marketing agricultural products.