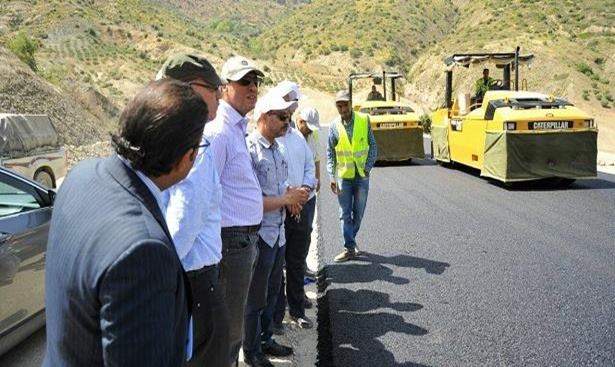 Image from www.moroccoworldnews.com
A 170 kilometer road project in Al Hoceima, part of the 'Al Hoceima Manarat Al Moutawassit' development program, will require a budget of 714 MAD, says Khalid Mziguel, Provincial Director of Equipment, Transport, and Logistics.

These projects are expected to be finished by the end of 2019, according to the director.The ministry of transport is providing MAD 464 million in funding for the project, while the Tangier-Tetouan-Al Hoceima region is giving MAD 250 million.

The road project consists of a 32 km national road linking Targuise and Cala Iris for with an estimated budget of 135 MAD, a 52 km regional road connecting Khlalfa and Issaguenat MAD 160 million, a 19 km provincial road linking Mrika and Bni Hadifa at MAD 40 million, a 13 km provincial road linking Ait Kamra and Al Hoceima at MAD 58 million, a 15 km provincial road linking Moulay Ahemd Chrif and Jebha with a budget of MAD 25 million, and a 14 km provincial road linking Khlalfa and Taghzout at a budget of MAD 25 million.

Contracts have been signed for the construction of five other road projects, said Mziguel, adding that their construction works will begin next September.The program also includes the construction of seven roads between Targuiste and Cala Iris, and five others between Issaguen and Khlalfa.

The minister also said that the ministry is constructing two other roads for the 'Manarat Al Moutawasssit' project: one linking Bni Abdellah and Bni Hdifa and another linking Isaguen and Chaouen.

For the 148-kilometer Taza-Al Hoceima Expressway, which consists of three tranches, Mziguel said that construction work is scheduled to be completed in January 2019.

The three tranches are spread over Ajdir-Bni Bouayach, which was finalized in 2013 at a budget of MAD135 million, Bni-Bouayach-Oued Nkour, whose progress is 81 percent and requires a budget of MAD 212 million and Oued Nkour-Kassita, whose work began last June and has achieved a 5 percent rate of advancement, requiring a budget of MAD 358 million, said Mziguel.