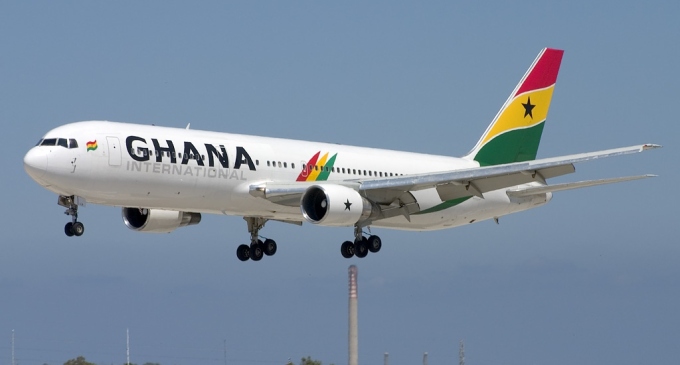 photo by:New Africa Business News
It is an indubitable fact that Nigerians are the most travelled in Africa; that while passenger traffic is higher in South Africa, Nigerians remain the highest number of indigenous travellers in the continent. In West and Central Africa, Nigerian travellers drive the highest number of traffic in the sub-regions. So both international carriers and regional airlines that operate in these sub-regions target the Nigerian passengers.

Ironically the country that is benefitting hugely from the Nigerian passengers movement is Ghana; not Nigeria. In the last few years, more international airlines operate out of Ghana than from Nigeria. Also in the same period, more African airlines have built their West and Central Africa operating hub in Ghana than in Nigeria, all targeting Nigerian passengers.

Some experts, who explained why the prevalent situation does not favour Nigeria posited that Nigeria is yet to evolve aviation policy that is geared towards developing a hub at the Lagos or Abuja airport. They noted that there has been lack of visionary plan and execution to put Nigeria's airports ahead of others in the continent through the attraction of international and African airlines.

In a recent breakfast conference organised by Aviation Round Table (ART), a think-tank body in the aviation industry, speakers noted that poor airport infrastructure, unfriendly system and personnel have made Nigerian airports unattractive to some international airlines.

Compared to Ghana, many industry experts said that Ghana set a goal on how to attract international airlines to its Katoka airport in Accra and it developed a functional airport, created flexibility, made aviation fuel available and reduced the price of the product. The airport personnel they said are friendly as sometimes in the evening a pianist would be serenading passengers as they disembark and board their flights, thus creating a convivial air.

Compared to the Lagos airport "our airport management personnel, that of security operatives and handling officials are unfriendly, harsh and hostile that when you enter our airports you notice that some of the security personnel, quarantine and handling seem to see you as somebody to be extorted, using all kinds of subterfuge," noted a Nigerian who is a frequent traveller to Ghana.

THISDAY spoke to travel expert and the organiser of Akwaaba African Travel Market, Ikechi Uko, who noted that Ghana has only two indigenous airlines but has created an atmosphere through flexible policies that have attracted international and African carriers to the extent that some African airlines have decided to use the Katoka International Airport, Accra as their hub for West and Central Africa.

"Ghana has only two airlines while Nigeria has about six and the Ghana airlines do not carry a lot of passengers, but Ghana chose an easier route to making a hub, which means giving out fifth freedom right to many airlines (fifth freedom allows an airline to carry revenue traffic between foreign countries as a part of services connecting the airline's own country), including non-African airlines. This increased the viability of that airport as a hub for some other airlines outside Ghana's indigenous carriers," Uko said.

It is this flexibility and the fact that deepened democracy, long term peace and favourable policies have made Ghana attractive to international agencies, multinational companies and even foreign citizens who wish to live in West Africa. In the past decade many multinationals and international agencies have moved their West Africa headquarters to Ghana.

"Ghana serves as a hub for South Africa Airways, Kenya Airways operates fifth freedom out of Ghana, there are also Tap Portugal, Royal Air Maroc, Emirates and others. The country is inviting more airlines which want to use Accra. This now opens opportunities for smaller airlines in West Africa, which cannot create hub in their country, so they now hook into Ghana. These include Air Burkinabe, Mali, Air Cote d'Ivoire and others trying to fit in as spokes to the hub, which was not created by Ghanaian airlines," Uko explained.

So while Nigeria is still ruminating over whether to build a national carrier or not; whether to privatise or concession nation's airports, Ghana has advanced in creating a hub by providing incentives to airlines to operate from the country. The Katoka airport in Accra is simply described as functional; however, the country is building another airport, which would be completed in few months to accommodate increased passenger traffic and aircraft movement.

Industry observers also said that it is ironical that foreign airlines, including African airlines, which largely target Nigerian passengers chose to establish their West African hub in Ghana.

"The South Africa Airways flight in and out of Ghana is the premium route in Africa for them. Ghana, knowing that it does not have strong airlines, created the space and opportunity for others to operate from its airport. This is so because there is no dominant player in the West Coast. The nearest place to the United States of America and South America is West Africa. You can connect China from East Africa, so Ethiopia Airlines and Kenya Airways have advantage there. Nigeria, Senegal and to an extend Abidjan (Cote d'Ivoire) should be hubs for West Africa. There is no dominant player (airline) in the West Coast," Uko also explained.

He remarked that Nigeria may lag behind now in aviation because many things are not working well in the country, noting that Nigerians may pretend that things are okay but the foreigners who are moving their airlines are just seeking for clement operational environment and for now Ghana offers it to them in West Africa.