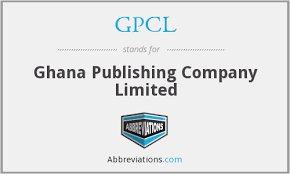 photo by:Abbreviations.com
A Deputy Minister for Information and Member of Parliament for Akuapem North, Nana Ama Dokuaa Asiamah Agyei, has made known government's intention to make Ghana Publishing Company Limited (GPCL) a printing powerhouse in the country.

Madam Agyei said the president was committed to retooling the GPCL to become a printing hub for all printing firms.

The Deputy Minister, who oversees the activities of all the agencies under the ministry and of which the GPCL forms part, was speaking when she paid a working visit to the agency in Accra, yesterday.

The visit was for the minister to familiarize herself with the activities of the GPCL, as well as get first hand information on some of the challenges facing the agency to enable government and the agency to come up with workable solutions for the company's transformation.

Madam Agyei assured management and staff of GPCL that government would empower the agency, saying, "we believe in your prospect, we believe in your profession, we believe in your capabilities and we believe also in your capacity; therefore, we are working around your plight to retool your activities in order for you to work efficiently."

On the welfare of the staff, she acknowledged all the sacrifices and commitment the workers had been making over the years to keep the agency running, despite the challenges that confronted them in line of duty, and assured them that their sacrifices would not be in vain.

The Deputy Minister, therefore, encouraged the agency to aim high in the printing industry and not let the sky be their limit.

On his part, the Managing Director of GPCL, Mr David Asante Boateng was happy the agency was getting the needed attention and maximum support from government.

Mr Boateng was hopeful that the revamping of GPCL would put the agency on the pedestal it deserved as a publishing firm.

He thanked the Deputy Minister and government for the gesture as well as the management and staff of the GPCL for their overwhelming support since his assumption of duty.