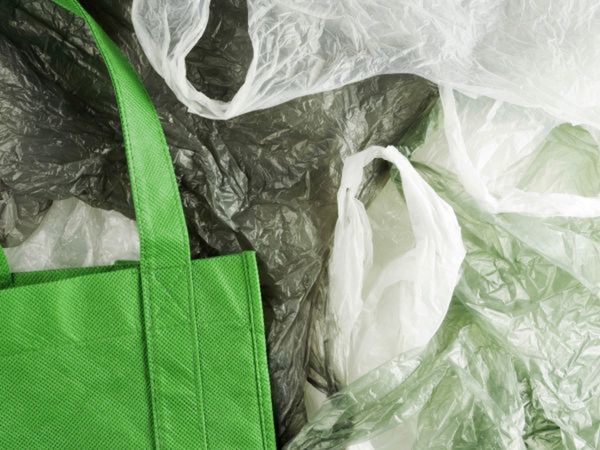 Image from www.standardmedia.co.ke
The ban on plastic bags, which takes effect today, has caught most traders off-guard despite a six-month notice by the Government. A spot check by The Standard showed that most small-scale traders in Nairobi's Muthurwa market had not bought alternative packaging materials for their goods.

Ms Hannah Wangare, a fruits and cereals vendor at the market, said she was yet to get pocket-friendly wrapping materials. "Customers will just have to come prepared. Packaging of cereals will, however, not be a big issue because we have the brown khaki bags but then again if someone is buying more than five kilogrammes how will they be able carry the product?" posed Wangare.

She added that the brown bags will also pose a challenge when it rains because they easily soak in water hence ruining the contents in the bag. While calling for pocket friendly and reasonable alternative, Wangare urged the Government to crack the whip on manufacturers and distributors rather than lay blame on end users.

Supermarkets were also racing against time to clear their current stocks. Customers were being given too many paper bags despite the quantity of goods bought. One customer at a leading chain of supermarkets joked that it was the first time each of his products was being packed separately.

The Government has maintained its stand on the ban through Gazette notice number 2356 made on February 28, 2017 by Environment Cabinet Secretary Judi Wakhungu, despite opposition from manufacturers.

The High Court last week also ruled against a case filed by two plastic bags importers and declined to suspend the ban, saying the need to conserve the environment overrides commercial interests. The notice banned the use, manufacture and importation of all plastic bags used for commercial and household packaging to be effected on August 28, 2017.

Anyone, including consumers, flouting the ban will face between one and two years jail term or a fine of between Sh2 million and Sh4 million. According to National Environment Management Authority (Nema), the papers contribute 9 per cent of total waste and create over 90 per cent of the environmental degradation.

Across the country, several towns have a recorded a rush for alternative shopping bags as the ban kicks off. In Nakuru, residents and business people visited supermarkets to buy environmental-friendly bags to replace the plastics carriers. A spot check by The Standard, however, showed that there was no supply of the bags despite the high demand in the supermarkets.