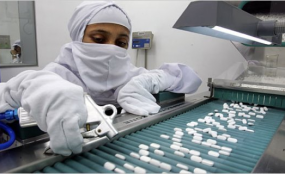 photo by:theeastafrican.co.ke
Intra-regional trade in manufactured goods has been growing slowly since 2010, causing firms in East Africa to lose market share in highly dynamic products like cement, pharmaceuticals, iron and steel and fertilisers.

The East African Community Industrial Competitiveness Report 2017 shows that trade in manufactured goods has slowed from an annual growth rate of 16 per cent between 2000 and 2010, to only two per cent between 2010 and 2014.

"EAC manufacturing firms have therefore lost market share in one of the most dynamic regions, where demand for processed goods has been increasing at almost 17 per cent per annum since 2010," says the report.

The report shows that for the period under review, the largest exports came from the chemicals and plastic sector, as well as metals, followed by food and beverages.

Whereas the top three products traded within the EAC contributed to 58 per cent of total manufactured exports in 2014, the same figure at global level stands much higher at 71 per cent.

The report is an analysis of the market opportunities offered by the EAC to its partner states for expanding their manufacturing sectors.

Its findings show several missed opportunities for EAC firms to tap into their own dynamic regional market. Of the 25 most-demanded manufactured products, local firms lost the highest market share in cement, pharmaceuticals, iron/steel products and fertilisers.
Increased capacities

While manufacturing firms managed to increase their capacities, experiencing positive growth rates in the period under review (except for heavy petrol/bitum oils), it was not at the pace and extent needed to keep up with the growing demand in the region, thereby allowing international firms to gain a larger market share.

According to the report, EAC acts as a fundamental market for most of its partner states.
It also provided the opportunity for countries to expand their exports further between 2000 and 2014, leading to a significant increase in intra-regional manufactured trade, which ranged between 9 per cent and 31 per cent on average per annum.

"All countries, apart from Rwanda exported a larger percentage of manufactured goods as well as medium and high-tech products to the EAC, than to the rest of the world," the report says.

The most attractive product for the EAC to engage in is cotton apparel, which has a particularly large and fast-growing demand in the region at 18.5 per cent annually, the report says.

The EAC currently exports over half of its cotton apparel to North America under the African Growth and Opportunity Act although the demand in this market has barely increased since 2008.

However, regional firms have been losing market share to China, the US, South Africa and to a lesser extent Lesotho.