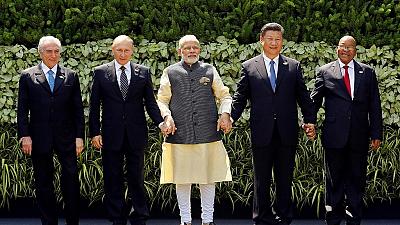 Image from www.africanews.com
The two African countries are among five countries – including Tajikistan, Mexico and Thailand – invited as guests to the annual conference.

The September 3 to 5 summit to be held in Xiamen city was described by the Chinese Foreign Minister in March as the BRICS Plus conference due to the invitation of non-members.

He explained that the invitation is not an attempt to expand the group, but to broaden their discussions, local media report."We want to broaden the discussion to non-BRICS countries as well. I am confident that the dialogue this year will also be a success and also help expand BRICS influence," he said.

The summit was hosted by India last year and they agreed to fast-track the setting up of their own credit-rating agency to better cater to developing economies.

The five member countries also vowed to forge closer trade ties at the end of their annual summit in Goa.

BRICS was formed in 2011 with the aim of using members' growing economic and political influence to challenge Western hegemony.