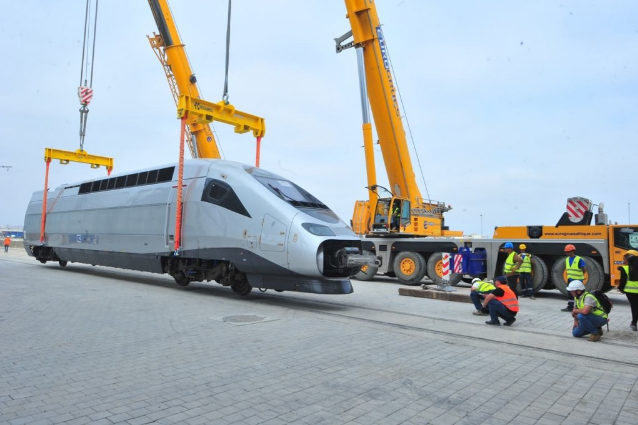 Image from www.moroccoworldnews.com
The construction works of the HSL Tanger-Casablanca line increased by 1 percent during the month of August. "It now has an overall turnover rate of 92 percent," the Minister confirmed to MAP. "This mega-project will promote Morocco's entry into an advanced phase of HST technology, while allowing it to be ahead of several countries and to set itself up as a model on the field at the African and Arab levels."

ONCF General Director Mohamed Rabie Khlie said the first tests at 320 km per hour of this high-speed train will begin during the month of September on a 120-kilometer stretch. He also ensured that "the preparation for operation is progressing according to the agreed schedule, in particular in terms of training drivers, maintenance personnel and commercial staff," while pointing out to the MAP that "civil engineering works are already completed, while those of railway equipment will be completed before the end of 2017."

The first half of 2018 will be devoted to the testing of the certification of the system and to its running-in, while "the commercial commissioning of the project is planned during summer 2018," the minister said.

Amara also recalled that "the El Hachef viaduct, with an investment of MAD 1.092 billion, constitutes the longest viaduct of the line with 3.5 kilometers, and one of the most spectacular works of the project," adding that it presents "impressive technical characteristics and illustrates the magnitude of the component of this large-scale project, noting that it has 12 viaducts, 169 road bridges and railway bridges and more than 100 hydraulic structures, realized at 80 percent by Moroccan companies."

The new Tangier station will be built on an area of 10,500 m² with 77,000 m² of outdoor facilities. It will include passenger traffic areas, counters, boarding rooms, and shops. The project, with a budget MAD of 360 million dirhams, currently sits at 65 percent completion.

The high speed train maintenance workshop will accommodate up to 30 HST. It will spread over 12 hectares including 20,000 m² of covered buildings. Inaugurated by the king in September 2015, it required an investment of MAD 640 million.