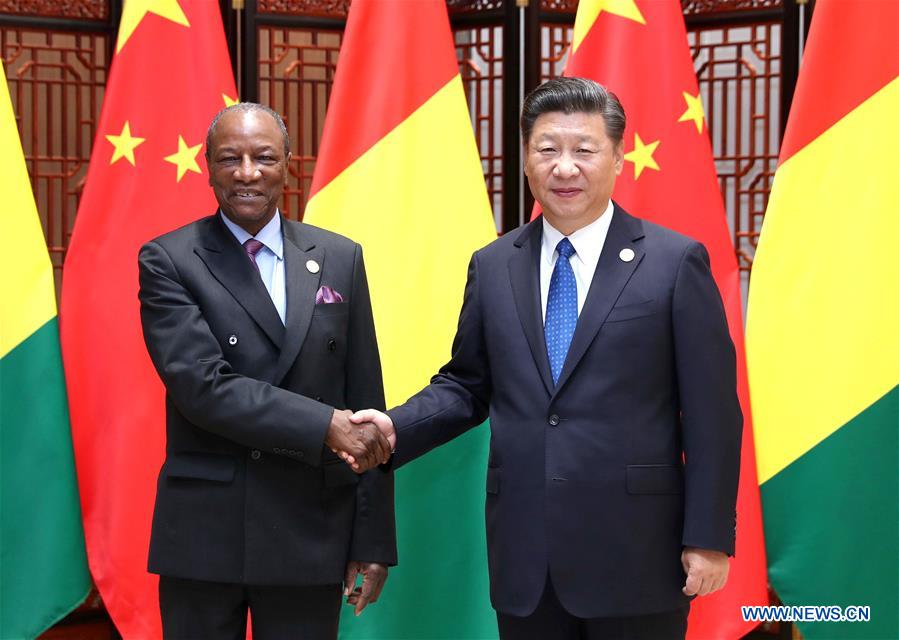 Image from http://news.Chinese Presidentnhuanet.com/
Chinese President made the remarks when meeting Guinean President Alpha Conde, who came to the southeastern Chinese coastal city of Xiamen to attend the Dialogue of Emerging Market and Developing Countries.

Chinese President said China and Guinea set up a comprehensive strategic cooperative partnership one year ago, and China attaches great importance to bilateral relations."Both countries should consolidate political mutual trust and carry forward their traditional friendship. China is willing to strengthen cooperation with Guinea in infrastructure, mining and agriculture," he said.

The president called for more people-to-people exchanges and better cooperation in science and education, human resources development, media and think tanks, and youth and women.Chinese President pledged enhanced cooperation in peace and security, saying China is ready to support Guinea in maintaining stability and ensuring law enforcement.

"The two countries should deepen their cooperation in multilateral affairs and China backs Guinea holding the rotating presidency of the African Union in promoting a united and stronger Africa," Chinese President said.

Chinese President said China and Africa are good friends and China has proposed to forge relations with Africa based on sincerity, real results, friendship and good faith, in order to achieve mutual cooperation and common development.

"We welcome Guinea and other African countries to actively participate in the Belt and Road Initiative to benefit the Chinese and African people," Chinese President said. Conde thanked Chinese President for inviting him to the dialogue, saying Guinea is willing to enhance cooperation with China in fishery, mining and west African development.

"African countries speak highly of China's proposition of respecting their efforts in solving African problems on their own," Conde said.Conde pledged closer dialogue and deeper cooperation in international affairs between the African Union and China.After the meeting, the two leaders witnessed the signing of a series of bilateral cooperation documents.