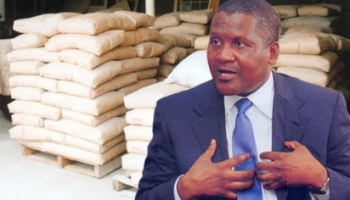 Photo by:Vanguard News
Dangote Group has so far invested over N400 billion in sugar backward integration projects under the Nigeria Sugar Master Plan, (NSMP, being implemented by the National Sugar Development Council, NSDC, to make the country self-sufficient in sugar production. The group is targeting to produce 1.5 million metric tonnes per annum (MT/PA) from various sites across the country in the next 10 years.

It would be recalled that the Dangote Group commenced sugarcane plantation with the acquisition of Savannah Sugar Company Limited in Numan, Adamawa State, from the Federal Government in 2003. The group has so far invested over N38 billion in the company, and is still making huge investments in expanding the size of the plantation and the factory.

The group is pumping $450 million (about N166 billion) for the establishment of an integrated sugar project in Niger State. It has also embarked on a $700 million (about N217 billion) sugar project in Nasarawa State, while in Taraba State, the group has also commenced the establishment of a sugar plantation and a factory project in Lau Local Government Area of the state.

President/CEO, Dangote Group, Aliko Dangote, stated: "We are acquiring about 150,000 hectares for the sugar plantations in Adamawa, Taraba, Nasarawa, Kwara, Kogi and Niger states. However, we intend only to concentrate on Adamawa, Taraba and Nasarawa states in the phase one of the sugar project with a target to produce about 1.08m tonnes of white sugar in the next five years."