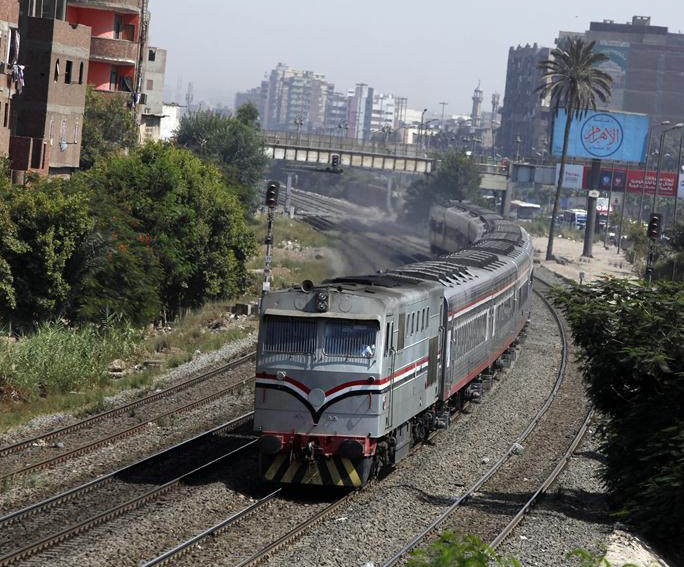 Image from http://news.xinhuanet.com/english/
"China is a leading country in this field," Shehata told Xinhua, adding that China is always ready to help friendly countries improve their infrastructure.The ETA is a leading Egyptian NGO that monitors and issues reports on the transportation systems in the North African country.

The NGO chief said that China has been helping many countries, mainly in Africa to build new up-to-date railway systems, stressing that the Asian giant will not hesitate to provide Egypt with its expertise in the field of railways and transportation.

On Friday, an Alexandria-bound train coming from Cairo crashed into the rear of another train on its way from the Mediterranean city of Port Said to Alexandria, leaving 49 people dead and more than 130 others injured.

Following the accident, Egyptian President Abdel-Fattah al-Sisi urged the government to hurry up with the development process of the country's railway network to avoid deadly train crashes.The president gave instructions to form technical committees to evaluate the maintenance processes and specify the needed spare parts for the trains and the railroad infrastructure.

Meanwhile, Shehata said that China is more preferable than other European countries to develop Egypt's railroad infrastructure since China offers both expertise and finance for development projects and the costs are usually lower.

"Unlike European countries, China does not decide the companies that will carry out the projects. It also provides finance through generous loans from Chinese banks," Shehata pointed out.He also said that China's participation in rebuilding Egypt's railway infrastructure will help boost the Belt and Road initiative to link Africa and Asia.

"China is more a partner than an investor," he stressed.Speaking about the Egyptian railway system, Shehata said it is in a bad need to be renewed according to the latest available technologies, adding that Egypt has been using very old methods, railway infrastructure and trains."The service that transports millions of Egyptians should be fully updated for the safety of passengers," Shehata insisted.

The ETA chief also said that the development should also include the human cadre who will be running any new system, adding that the diesel locomotives should be replaced with newer electric trains.Egypt has spent billions of U.S. dollars to develop its railroad and train systems, but the development projects did not yield good results because "we did invest in an old infrastructure," Shehata pointed out.

"It is not a good idea to update an already old train or network. The whole network and trains should be modernized and I believe that we need a pioneer partner like China to make a leap in our railway system," Shehata said.

Over the past 15 years, Egypt has witnessed several deadly railway crashes that signaled poor railway conditions and lack of necessary railroad maintenance.The worst train accident in Egypt took place at Giza's district of Ayyat in 2002, which killed 350 passengers when fire broke out in a train coming from Upper Egypt, forcing passengers to hopelessly jump out to survive.

Another train tragedy hit the country 10 years later, particularly in November 2012, when a train hit a school bus at a crossing barrier area in Upper Egypt's Assiut province, killing over 50 children.
Later in early 2013, the derailment of a train in Giza carrying new police recruits left 19 people killed and over 100 wounded.