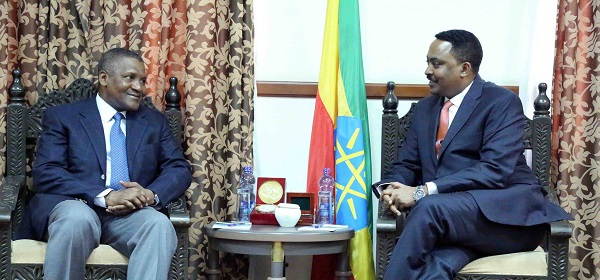 Image from www.semonegna.com
The Group is ready to engage in packaging and sugar areas, Owner and CEO of Dangote Group Aliko Dangote told ENA after the discussion with Prime Minister Hailemariam Desalegn here yesterday.

Dangote Cement which owns East Africa's biggest cement factory in Ethiopia has been imported bags of cement from abroad for its products, costing it millions of Dollars, he said.

The Group, which also engages in the packaging area, has decided to establish a huge packaging facility in Ethiopia over the coming few months to substitute imports, he added.

"We are also opening a very big factory to produce you know bags of cement. We used to import all bags from abroad in millions. But right now we are going to establish the factory and actually to be ready in the next few months this year," he said.

Mr. Dangote said that his company is looking at Ethiopia's sugar sector.

"We are also looking at the possibility of looking at other areas, sugar and others mainly agriculture, which we now discussed with government to move forward," he said.

Mr. Dangote said that the violence occurred few months ago in parts of the country do not affect the Group's investment in Ethiopia.

"The objective of my trip to Ethiopia is to show him [Prime Minister] that we are not temporary investors. We are Ethiopian investors; we are actually Africans so we are part and parcel of Ethiopia. This sort of thing [the disturbance] does not really rattle us," Mr. Dangote said.

"But the main purpose of my trip to Ethiopia is to show the Prime Minister our commitment to continue to invest in Ethiopia," he said.

Regarding creating jobs, Mr. Dangote said, his company will continue to diversify investments thereby create more jobs, saying it is the private sector's duty to create jobs.

"Governments they don't create jobs. People do need to understand that. Government doesn't create jobs at all. Government will facilitate and put all the policies in place for people to create jobs. It is our own job as private sector to partner with the government and create jobs. They create policies and we create jobs. So that why I think it is a very good win- win you know situation," he said.

During the discussion, Prime Minister Halemariam assured the African tycoon that his government is fully committed to support the Group in the efforts towards diversifying its investments.

He said that government encourages companies such as the Dangote Group to engage in Ethiopia so as to boost employment opportunities and knowledge and technology transfer as well as economic development, according to a high level official who attended the meeting.