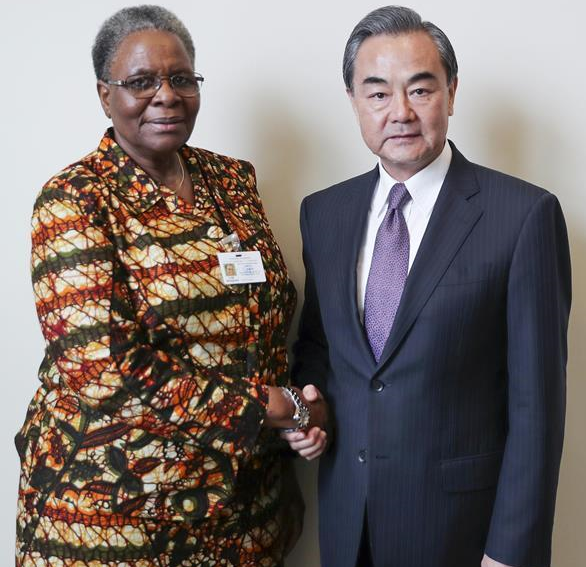 Image from http://news.xinhuanet.com/english/
Chinese Foreign Minister Wang Yi (R) meets with Namibian Deputy Prime Minister and Minister of International Relations and Cooperation Netumbo Nandi-Ndaitwah at the UN headquarters in New York, on Sept. 19, 2017.

Chinese FM added further elaborated why the two countries could have seen a steady development in ties and ever more robust bilateral cooperation in various areas.

He said that the development of the bilateral ties has been fostered by generations of the two countries' leaders, and, as a result, the two sides have shared a strong friendship and political mutual trust.

China always views its relationship with Namibia from a strategic and long-term perspective, and regards the African country as a good friend, partner and brother, Chinese FM added.

China and Namibia have made joint efforts with regard to major international issues, safeguarding the legitimate rights of the developing world, he said.

In order to make greater accomplishments in bilateral ties, Chinese FM said the two sides need to enhance their political mutual trust and deepen exchanges about the art and experience of running the country.

China and Namibia should also step up efforts to synergize their respective development strategies, and stick to the path of win-win cooperation and common development, said Chinese FM.