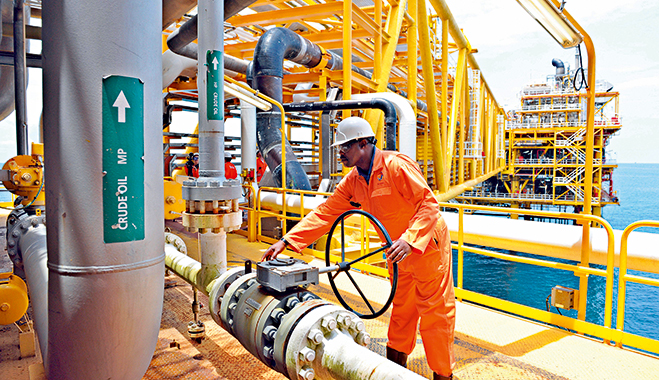 Photo by:World Finance
Abuja — The Minister of State for Petroleum Resources, Dr. Ibe Kachikwu, on Monday stated that reforms initiated and executed by the federal government in Nigeria's oil and gas industry within the last two years had earned the sector the confidence of international oil companies (IOCs) who he noted had requested to invest over $15 billion in the sector.

Kachikwu said in a podcast he released in Abuja that at the moment IOCs were beginning to believe in Nigeria's reforms in the oil sector and its systems.

He also disclosed that from 2019, Nigeria would deploy an information technology platform that can track and accurately report the volume of crude oil she produces.

"We were able to exit the joint venture cash call - still a bit of things to be ironed out there, but for the first time multinationals began to have belief in their need to invest in the country.

"The amount of investment requests we are seeing from joint venture cash call members is today in excess of $14 to 15 billion dollars which are for purposes of projects like Zabazaba, Bonga extension programmes and all that - multinationals are beginning to have confidence that this system is working," said Kachikwu in the podcast.

He listed the targets of the government for the sector in 2018 and early 2019, saying: "We are going to be rolling out our fiscal policies which are now awaiting FEC approval. Those fiscal policies will expand income in the short term over $2 billion a year to the federal government but on a long term over $9 billion. On the back of that, we will be working with the assembly to transmit that into legislative provisions.

"Deepening the Niger Delta engagements. Next week, I am going back there to talk to the governors of the region, the oil companies, to put a seal to some of the agreements we have made - MoUs that all of us can work with, in that way, there is a faith in what the vice president has said.

"We will like to hit 2.2 million barrels subject to OPEC constraints, and we will be working to fix up all the infrastructures that are essential to this," he added.

The minister further said fixing the refineries and exiting importation of petroleum products by 2019, commercialising gas flares, and marginal fields bid rounds would also be part of the government's plans.

"To the big picture of 2018 and early 2019, what are the key things we are going to focus on? First is the refineries, it is important that we get these refineries working, we must exit importation in 2019. We are continuing to deepen our conversation with oil companies to ensure that we exit gas flare in over five gas flare sites.

"Infrastructure is key to us, our infrastructure is 30 to 40 years old, completely dilapidated, can't be funded by the government anymore. I am working with the NNPC and DPR to launch our infrastructure masterplan and bring people who can invest in them.

"There is the issue of crude tracking - how do we track every molecule of products we have, crude and refined products? We are putting together an IT platform that will enable us do this, we are working with DPR and hopefully by 2019, the issues of whether we could not account for our crudes will no longer occur.

"We are planning our marginal fields' rounds and we are also planning our inland basins rounds. It is going to be a transparent process to bring people to get us more oil. The rules are going to be out soon once it is approved by His Excellency," Kachikwu explained.
Meanwhile, the Nigerian National Petroleum Corporation (NNPC) has said that 34 firms have submitted bids to provide security services to its downstream assets.

NNPC said in a statement from its Group General Manager Public Affairs, Mr. Ndu Ughamadu, that as part of efforts to consolidate on the successes it reportedly recorded in the supply and distribution of petroleum products across the country, it decided to map out strategies to secure its depots and pump stations, hence the invitation for bids.

It said successful companies would be engaged to provide security services at its depots and pump stations across the country, and that it was desirous of engaging reputable and competent security firms to safeguard its critical assets to ensure unimpeded operations and efficient service delivery.

"This particular exercise avails us the opportunity to identify competitive offers from companies that are competent and ready to secure our assets such as depots and pump stations at competitive rates. The NPSC assets are wide spread nationwide, which means security is important, if you have anything of value, you must provide security to safeguard it," said the Managing Director of the Nigerian Pipeline and Storage Company (NPSC), Mr. Luke Anele, who was represented at the bid opening ceremony by NPSC's Executive Director in charge of Pipelines, Mr. Danladi Ahmed.

The statement noted that the bid opening was conducted openly in the full glare of representatives of the bidding companies to demonstrate NNPC's commitment to transparency and due process, and that bidders were assured of a level playing ground in the process.