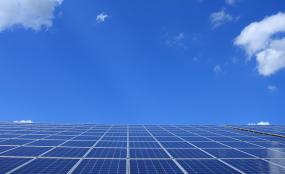 Photo by:allafrica.com
Independent Power Producer, Uhuru Energy, has secured $51 million from a Chinese State-owned firm for the first phase of its $300 million solar photovoltaic project. Under the project, Uhuru Energy will set up combined solar photovoltaic power plants with a total capacity of 310 megawatts, making it the country's largest investment into renewable energy. Phase One of the project, which will be set up in Donnington West in Bulawayo, will cost $60 million while phases 2 to 4 will cost $240 million. The Chinese firm, which is going to avail 85 percent of the funding for the project, will also undertake the construction. Uhuru Energy will provide 15 percent.

"$51 million has been secured for Phase One and the balance of funding for additional phases will be released in batches from the Chinese Parastatal. Phase One and Two will be located in Bulawayo while we look for other sites across the country to complete other phases," said the company in responses to The Herald Business. Construction of Phase One of the project will take up 18 months to complete. About 400 direct and indirect jobs will be created.

"Construction work is expected to start at the end of the third quarter in 2018. Uhuru Energy will be seeking prescribed asset status for the project and this will enable us to engage pension funds and insurance firms for funding," said the energy firm. Uhuru Energy pointed out that the Minister of Energy and Power Development Dr Samuel Undenge, has given consistent audience to the management team over the past two years and provided wise counsel on the general direction of the project.

During his engagements with the company, Dr Undenge emphasised the need for employment creation, empowerment of local promoters and alignment of the project with Zimbabwe Agenda for Sustainable Socio-Economic Transformation (Zim-Asset). Once completed the project will be the largest Solar PV power undertaking in Zimbabwe. The company is looking at exporting power once phase one is complete. The company, however, said it has not yet signed a Power Purchase Agreement with Zimbabwe Electricity Transmission Company as this can only be done on completion of a feasibility study.