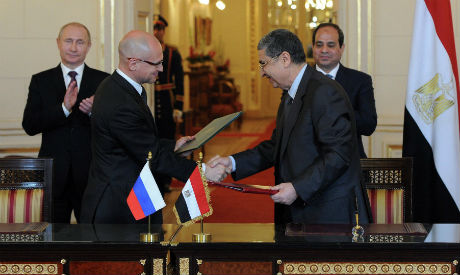 Image from http://english.ahram.org.eg
Egypt expects to finalise contracts before the end of 2017 for its first nuclear power plant with 4,800 megawatt (MW) capacity, Electricity Minister Mohamed Shaker said on Tuesday.

Egypt signed an agreement in November 2015 for Russia to finance building and operating the plant.

Egypt's official gazette said last year the loan was worth $25 billion and would finance 85 percent of the value of each work contract, services and equipment shipping. Egypt would fund the remaining 15 percent.

The plant will be built in Dabaa, a site in the north of the country that Egypt has been considering for a nuclear plant on and off since the 1980s. The first of four planned reactors is expected to begin producing power in 2024.

Egypt, with a population of nearly 95 million and vast energy needs, wants to diversify its energy sources.

As well as building a nuclear plant, Egypt said last year it was expand its solar and wind power capacity over three years to add 4,300 MW of capacity.