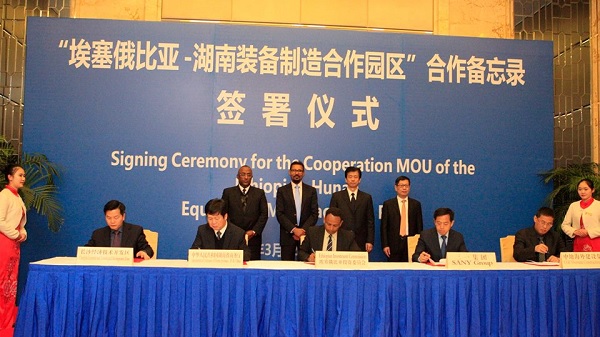 Image from Xinhua
The latest Chinese company that will soon establish a presence in Ethiopia is the Wuxi No. 1 Cotton Mill, which is part of the Guolian Development Group and one of the largest textile manufacturers in China, according to the Ethiopian Investment Commission (EIC).

The company has signed an investment agreement with the Ethiopian government to establish an integrated textile industry in Ethiopia's second largest city Dire Dawa, some 446 km east of Ethiopia's capital Addis Ababa.

According to the EIC, Chinese companies, with close to 379 projects that were either operational or under implementation in 2012-2017 period, are on top of Ethiopia's investment landscape, both in number and financial capital.

Among these companies, 279 were operational in Ethiopia with projects that worth over 13.16 billion Ethiopian birr (over $572 million) during the reported period, while the remaining 100 are under implementation.

In terms of employment creation, Chinese companies have created more than 28,300 jobs in various sectors in Ethiopia during the reported period, of which over 19,000 were created in Ethiopia's manufacturing as it is the leading sector in attracting companies from China.

In a statement sent to Xinhua, the EIC indicated that the Wuxi No. 1 Cotton Mill and the Wuxi Guolian Development Group will bring state-of-the art manufacturing technology, knowhow and excellence accumulated over a span of 100 years to Ethiopia.

Noting that the company currently has a weaving capacity of 26,000 tons of yarns and 30 million meters of gray fabrics yearly, the EIC expects Wuxi No. 1 Cotton Investment Company to play a big role in Ethiopia's ambition in putting its export industry in the map.

As part of the investment agreement, which was signed in Wuxi city in China on Nov 2 between the EIC and officials of the company, the Wuxi No. 1 Cotton Mill (Wuxi Guolian Development Group) has agreed to invest in a large scale and integrated fabric mill and spinning plant in Dire Dawa, targeting the export market.

The Ethiopian government also envisages that high profile companies, such as Wuxi No.1 Cotton Mill which is said to be known for supplying leading global brands where 75 percent of its products are mainly exported to Europe, America, Japan, and Southeast Asia, will help push Ethiopia to be the leading player in Africa's apparel and textile manufacturing sector.

Abebe Abebayehu, Deputy Commissioner of the EIC, believes the arrival of such investors in the country will help Ethiopia realize its target.

"This investment would contribute immensely to our government's vision to build a sustainable, vertically integrated and export-oriented, apparel and textile manufacturing hub in Ethiopia. Indeed, our vision is to make Ethiopia the leading manufacturing hub in Africa," the statement quoted Abebe as saying.

According to the EIC, in addition to creating direct employment opportunities and boosting Ethiopia's foreign exchange reserves through exports, this investment is expected to create significant backward and forward linkages in the country's fast growing textile and garment industry.

In a bid to create better market opportunities for large scale cotton production in the country, the project plans to purchase raw materials such as cotton from local sources, it was noted.