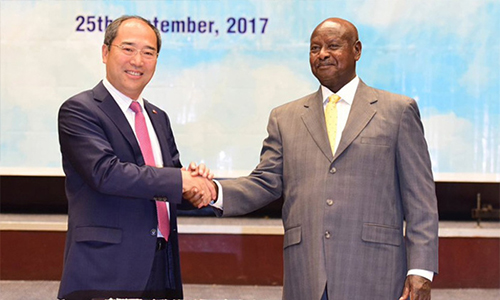 Photo by:New Vision
Uganda has been advised to increase the value and volume of its exports to China if it wants to benefit from the trade between the two countries.

China is Uganda's second-largest trading partner but with the latter's exports standing at a mere $57.7m and imports at $886.2m, there seems to be one beneficially, China.

According to the state minister for Cooperatives, Fredrick Ngobi, this statistic must improve at the earliest possible time.

Uganda mainly imports electrical and mechanical appliances and their spare parts, clothes, nuclear reactors, among others from China. On the other hand, we export raw hides and skins, oil seeds, fruits and vegetables, coffee, tea and spices.

"We need a balanced trade, where we export and import at the same rate. The balance of trade will be possible by increasing our exports to Asian countries like China which provide a bigger market," Ngobi said last week during a dinner for participants in the 2017 China-aid training program.

This program involves taking Ugandans to China for skills training in technology and other areas that can spur development.

Ngobi also advised traders to add value to their exports by processing products such as oil and powdered milk to attract a higher price.

"The government is trying to improve the infrastructure to access the market. I advise farmers to move to modern farming and form firm groups which will help them market their products together. Like in China or Saudi Arabia, they might want an order of supplying them with 100 tonnes of meat every day, this can only be possible if you formed a firm group since one person can't meet that demand," Ngobi said.

He advised farmers to have attractive packaging of their products to ably compete on the international market. He also invited more Chinese investors in the energy sector because the current 2,000 megawatts of power Uganda has is not enough.

"We want a lot of power [for] industries, produce more and be competitive on the international market. We want wind power. We encourage each region to have industrial parks where people form partnerships and share investments. Some people can bring land and others bring capital and make an investment," he said.

He also advised Ugandans to avoid importing very cheap and substandard products and then start blaming China.

The Chinese ambassador Zheng ZhuQiang noted that his country remained the number one source of foreign direct investment for Uganda. He added that Uganda Investment Authority has reserved 10 acres of land at Namanve industrial park for development of small and medium enterprise work spaces.

"It's our hope that we shall develop this project with support from the Chinese government," Zheng said.