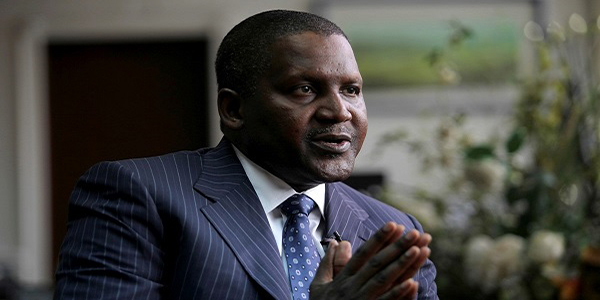 Photo:hope for Nigeria
The Dangote Group, a Nigerian multinational industrial conglomerate headquartered in Lagos, announced plan to increase its investments in Ethiopia by two folds.

"We are not investors that just come and fly out the next day; we are here to stay. As we speak right now we are looking at ways and means to doubling our business here in the next few months" President and CEO of the Group Aliko Dangote said.

Mr. Dangote told reporters about the plan after discussions with Prime Minister Hailemariam Dessalegn here Thursday.

The discussion with the Premier was focused on ways of expanding the company's investments in Ethiopia.

"We have an investment of over $600 billion on our cement plant and we are opening a very big packaging plant. We are actually going to do more than three times of our capacity." Mr. Dangote said.

He also added "My main purpose here is to express our support and congratulations to his excellency the prime minster and also the people of Ethiopia in working hard to continue to find the solutions to the issues and problems and also to give our own support for the people of Ethiopia and the government at 100 percent rate."

The Prime Minister during the discussion has assured that his government will extend the necessary support for the expansion of Dangote's investment in Ethiopia, according to Zadig Abrha Media and Public Relations Deliverology Unit Head with the rank of a Minister at the PM Office.

Zadig said the company's plan to expand its investments in Ethiopia displayed that previous media reports about the Group's intention to leave Ethiopia is wrong.

It was recalled that some media outlets have reported that the Dangote Group has plans to close its investments due to conflicts occurred in some areas.

Dangote Group has been active in Ethiopia since 2015 engaging in cement manufacturing sector in the country.

Mr. Aliko Dangote has been investing in 18 African countries, creating more than 26,000 jobs and large economic values across the continent in a range of industries.