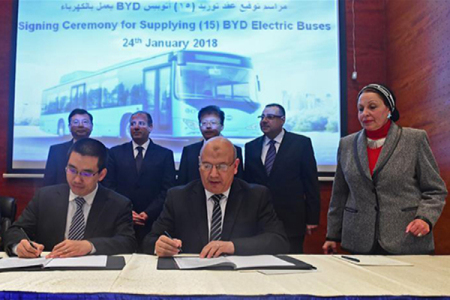 Photo by Xinhua
Chinese auto manufacturer BYD signed an agreement on Wednesday with Egyptian Passengers Transportation Authority to provide 15 electric buses for the Arab country's public transit fleet.

"This is the first time Egypt would use electric buses," Khaled Eliwa, chairman of the Authority in Alexandria, told reporters, adding that the deal aims at improving public transportation system in the Mediterranean city of Alexandria, Egypt's second largest city.

The 90-passengers buses are environmentally-friendly and will reduce operating costs, Eliwa said.Alexandria consumes two million liters of diesel per month for the operation of public transport buses, he added.

"A diesel bus consumes around 6.36 Egyptian pounds (0.36 U.S. dollars) per km to run, while an electric bus will consume less than half a pound per km," the chairman noted.

The first bus will be delivered within two months, while the remaining 14 will arrive in June.Egypt, once an energy exporter, has turned into a net importer in recent years due to its declining production and rising consumption.