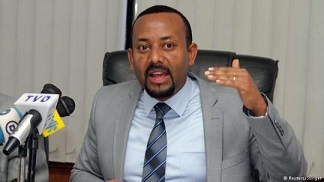 Photo from Internet

Ethiopian Prime Minister Abiy Ahmed on Sunday inaugurated Adama industrial park.It is built by China Civil Engineering Construction Company.

The industrial park is part of the Ethiopian government's grand plan to transform the country's largely agrarian economy into an industrialized one by 2025.

Covering 100 hectares of land and built at a cost of around US$146 million, Adama industrial park is expected to create job opportunities for around 25,000 Ethiopians.

The industrial park, designed and built with international standards, has integrated facilities including clinics, fire services, a market center, a bank, cafes, and exhibition facilities.

"The inauguration of the Adama Industrial Park is crucial to meeting the industrialization needs of Ethiopia and fulfilling the employment and human resources development of our higher education graduates," Prime Minister Ahmed told the inauguration ceremony.

Ahmed said that with his administration's political reforms undertaken since April almost complete, the focus from now on will be to meet the economic needs of the country's estimated 105 million citizens.

Ethiopia has so far commissioned five industrial parks and plans to commission six others during the current Ethiopian fiscal year 2018/19, which started on July 8.