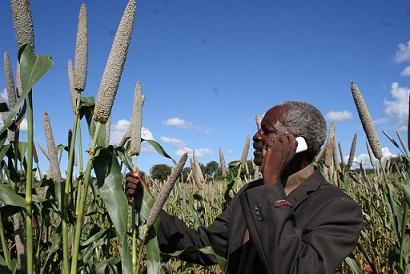 Image from africa.com

As agricultural production declines, digital services are providing smart solutions that are improving smallholder productivity, profitability and resilience to climate change – a threat to agriculture.

"Climate change has necessitated changes in how farmers cultivate their land to be able to provide food and secure incomes in a sustainable manner; and climate smart agriculture has proven solutions which have to be scaled out to farmers," Mariam Kadzamira, a climate change officer with Technical Centre for Agricultural and Rural Cooperation (CTA), tells IPS on the side-lines of a recent meeting held in Johannesburg, South Africa.

The meeting reviewed a CTA regional project where farmers from Malawi, Zambia and Zimbabwe are receiving weather information via mobile phones.

The project, which aims to reach 200,000 smallholder farmers by end of 2019, is promoting the use of drought-tolerant seeds and weather-based index insurance to farmers as part of the climate smart agriculture interventions that are accessed by farmers through digital platforms.

A new study titled The Digitalisation of African Agriculture Report 2018-2019, published in June, found that an untapped market worth more than two billion dollars for digital services could support farmers improve their productivity and income.

The study tracked and analysed digital solutions such as farmer advisory services, which provided weather or planting information via SMS or smartphone applications, and financial services, including loans and insurance for farmers.

Nearly 400 different digital agriculture solutions with 33 million registered farmers across sub-Saharan Africa were identified in the study by Dalberg Advisors and the CTA. However, the current digitalisation for agriculture (D4Ag) market is a tip of the iceberg with just a six percent penetration, the report authors say.

In 2018, the digitalisation for agriculture market recorded an estimated turnover of 143 million dollars out of a total potential market worth over 2.6 billion dollars, the study said.

The study found an annual growth of more than 40 percent for the number of registered farmers and digital solutions, suggesting the D4Ag market in Africa is likely to reach the majority of the region's farmers by 2030.

"Digitalisation can be a game-changer in modernising and transforming Africa's agriculture, attracting young people to farming and allowing farmers to optimise production while also making them more resilient to climate change," said Michael Hailu, director of CTA, as he urged private sector investment in increasing the adoption of this model to help farmers increase yields.

By using digital solutions, farmers saw improvements in yields ranging from 23 to 73 percent, and increases of up to 37 percent in incomes, the report found.

Models that bundled more than one solution, combining digital market linkages, digital finance, and digital advisory services were associated with yet further improved yields of up to 168 percent.

Michael Tsan, partner at Dalberg Advisors and co-leader of the firm's global Digital and Data Practice, said digitalisation for agriculture has the potential to sustainably and inclusively support agricultural transformation for 250 million smallholder farmers and pastoralists in Africa.

"Sound digital infrastructure that provides basic connectivity and affordable internet is a prerequisite for smallholder farmers to fully harness the opportunities of digitalisation in agriculture," Debisi Araba, a member of the Malabo Montpellier Panel and Regional Director for Africa at the International Center for Tropical Agriculture (CIAT), tells IPS via e-mail. "To bridge the digital divide, rural communities need to be better connected to electricity reliable telecommunications and internet connections households, schools and workplaces."

A report launched by the Malabo Montpellier Panel at its annual forum in Rwanda last June highlights promising digital tools and technologies emerging in the agricultural value chain across Africa. The report, Byte by Byte: Policy Innovation for Transforming Africa's Food System with Digital Technologies analysed the experiences of Côte d'Ivoire, Ghana,Kenya, Morocco, Nigeria, Rwanda and Senegal who are at the forefront of applying digital technologies through policy and institutional innovation.