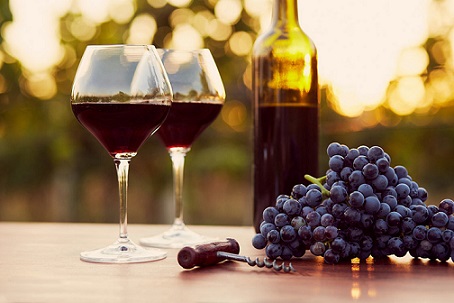 Image from vegetariantimes.com

South Africa is currently one of the top 10 wine regions in the world, with the main wine producing area in the Cape region.

#1. The annual harvest of grapes in 2016 resulted in 1.4 million tons, of which 82% was directed toward the South Africa wine industry.
#2. About 3,000 vintners are currently involved with the wine industry in South Africa. Together, they take care of more than 94,500 hectares of land that is currently under vines.
#3. About 300,000 people receive direct or indirect employment support because of the actions of the wine industry.
#4. Total exports from the South African wine industry in 2017 totaled more than 448 million liters.
#5. The South Africa wine industry currently provides 3.9% of total international wine production. That places the industry seventh in the world, according to 2016 figures. Italy was the largest producer, with a 19.1% share. They were followed by France (16.3%) and Spain (14.7%).
#6. Chenin blanc wine grapes are the primary product grown in South Africa, comprising 18.5% of total hectares in 2016. Colombar(d) is the second-most common wine grape grown, representing 12% of total vines.
#7. The most popular white wine in South Africa is Cabernet Sauvignon, representing 11.1% of the market. Shiraz has a 10.4% market share, while Pinotage has a 7.4% market share.
#8. The United Kingdom receives the greatest share of wine exports from the industry, with a total of 107 million liters purchased in 2016. South Africa also exported 84 million liters to Germany, 27 million liters to the United States, and 25 million liters to Canada.
#9. Natural/Still wine is the most common import for the South African industry, with 16 million liters imported in 2015. About 575,000 liters of sparkling wine was also imported.
#10. About 450 million liters of wine is consumed domestically in South Africa each year. Since 2015, South Africans have begun to consume about more than 25 million more liters of wine each year.
#11. About 40% of the vineyards in South Africa have been replanted in recent years. This has created a shift in the industry from about 80% white grapes to a 50/50 split between white and red grapes.
#12. Global consumers pay 4 times more for a bottle of wine that came from South Africa compared to what domestic consumers pay.
#13. In 2016, exports to China rose by more than 40%, even though it didn't make the list of top export destinations for the industry.
#14. The revenues generated by the wine industry in South Africa contribute about 2% to the national GDP each year.

Wine tourism currently generates about R6 billion in revenues each year for South Africa. The ethical accredited volume of the wine industry was 48% in 2016, with a goal of reaching 100% by 2025. 20% of the value achieved by the industry comes from the export market, with 11% of exports going to new markets each year.