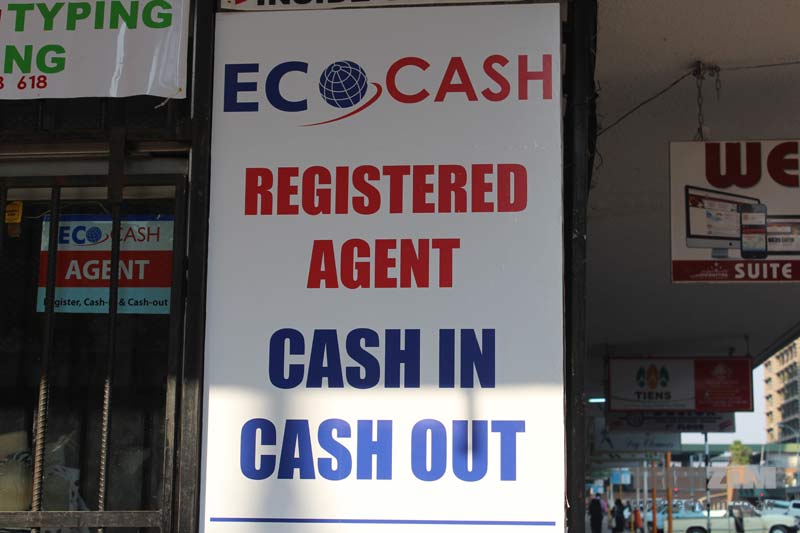 Photo by:Techzim
THE country's largest telecoms network operator Econet Wireless Zimbabwe Tuesday launched a new mobile money product 'Swipe into Ecocash', which will enable bank card holders to easily convert moneys in their accounts into Ecocash.

The product will go a long way in enabling the transacting of business by citizens as the liquidity crisis continues to haunt Zimbabwe.

With the Bankers Association of Zimbabwe announcing the temporary banning of cash withdrawals by individual customers, plastic and mobile money platforms have since become the emergency measures of transacting for business.

Speaking during the launch, Ecocash Marketing manager, Owen Takadii, said they find gratitude in continuously discovering innovative ways of ease doing of business despite the harsh macro-economic climate.

"We have a team of young innovative talents who are continuously striving to bring better packages to help mitigate against the problems currently bedevilling the nation," he said.

He argued that such fiscal innovative measures were supposed to be the brain child of the banking sector, which they are however complementing by continuously coming up with products which make life a lot easier for their customers.

Ecocash general manager Ms Natalie Jabangwe Morris said the new brand can be used at any Zimswitch enabled card as long as it is logged on a Steward POS machine.

She said an individual can convert up to $2000 per transaction though the number of swipes and limits depend with one's bank terms and conditions.

"One can only swipe into his/her own Ecocash account using the bank card's pin code to complete the transaction with the service limited to Ecocash customers with Zimswitch bank cards only and within the country," she said.

Ms Jabangwe Morris added, "It is only three months ago that they came up with another product in which they partnered the road authority Zinara to facilitate the payment of toll fees on the nation's highways using the ecocash platform."

"We promise our valued customers that within a month, we will come up again with another economic enabler which will facilitate the easy way of doing business," she said.