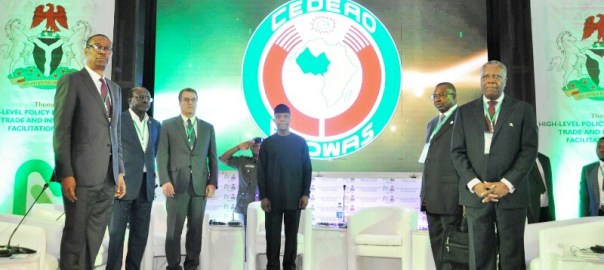 Photo by:Premium Times
Nigeria, along with other member nations of the Economic Community of West African States, ECOWAS and affiliates and partners of the World Trade Organisation, WTO, on Friday reaffirmed their conviction that trade and investment were "twin engines" and pillars for economic growth, modernization and development of Africa.

The reaffirmation was contained in a public declaration titled, "The Abuja Statement" adopted at the close of a two-day high level policy and private sector trade and investment facilitation cum partnership forum in Abuja.

The Abuja Statement on the theme: "Deepening Africa's Integration in the Global Economy through Trade and Investment Facilitation for Development" was unanimously adopted by over 30 African countries and Friends of Investment Facilitation for Development, FIFD, who participated in the event.

The statement noted the challenges of increasing population, mounting pressures for jobs and expanding prosperity across Africa, amid growing opportunities and potentials for accelerating industrialisation and technological development.

Stressing the need to leverage Africa's demographic dividend for sustained and inclusive growth, the statement said the continent has emerged the next global growth frontier for Africa and the global economy.

Apart from the challenges and opportunities, participants discussed how more cooperative approaches to investment and trade facilitation could be harnessed for 'win-win outcomes.'

The statement said a critical starting point for the exchanges and sharing of experiences was the reaffirmation importance of trade and investment as 'twin engines' for economic growth, modernisation.

"Only by scaling up investments in 'connectivity' infrastructure - ports, transport corridors, telecommunications networks - could African countries participate in, and benefit from, today's integrated and digital global economy.

"Only by increasing, intensively, investments in globally competitive industries, services, and start-ups - from both foreign and domestic sources - could African countries generate the resources required to advance education, improve health care, reinvest in innovation, and generate employment opportunities for millions of young people," the statement added.

Participants acknowledged United Nations' projection that developing countries would need an additional $2.5 trillion in investment annually to achieve the 2030 Sustainable Development Goals, SDS.

Besides, they endorsed the proposition for higher domestic security and stability to achieve higher levels of welfare, prosperity and job creation, facilitated by greater intensity in trade and investment facilitation.

The resolution said expanding trade and investment facilitation required "investment and complementary polices, institutions, and best practices, domestically, regionally and internationally, including the global networks, know-how, and technologies."

To strengthen global trading system, participants expressed support for the ongoing negotiations to establish the "Continental Free Trade Area", CFTA, - a single market for trade in goods and services across Africa, calling African Union, AU, members to advance the strategic objective.

Declaring the forum open on Thursday, Vice President Yemi Osinbajo restated Nigeria's commitment to the CFTA agreement as the only way to deepen intra-regional trade and regional economic integration.

"Nigeria's commitment to fostering regional integration through ECOWAS remains strong, as we lead the ongoing negotiations to conclude by the end of the year the continental free trade area, CFTA. For Nigeria, there is no Plan B on the CFTA. We must absolutely succeed," the VP said.

Mr. Osinbajo said the benefits of the WTO agreement on trade facilitation included enhancing infrastructural facilities, boosting productive and trade capacities, reducing transaction costs, and removal of barriers through reforms as well as improvements in the customs regulatory systems to boost intra-African trade.

The Minister of Industry, Trade and Investment, Okechukwu Enelamah, said the new image about "about Nigeria in the global arena was that of a positive, pro-development, pro-business and pro-enabling environment for business."

On his part, the Director General/Chief Negotiator of the Nigerian Office for Trade Negotiations, Chiedu Osakwe, said the forum was an acknowledgment of Nigeria's economic and trade policy leadership in West Africa, Africa and the global economy.

The High Level Forum was co-hosted by the Ministry of Industry, Trade and Investment, ECOWAS in partnership with FIFD and members of FIFD coalition.

The coalition includes Nigeria, Argentina, China, Australia, Brazil, Chile, Colombia, Hong Kong China, Japan, Korea, Mexico, Pakistan, Russia, Singapore, Switzerland, Canada, the European Union and Qatar.

Other participants at the Forum include WTO Director General, Roberto Azevedo; Secretary General of the United Nations Conference on Trade and Development, UNCTAD, Mukhisa Kituyi; African Union, AU; Commissioner for Trade and Industry, Albert Muchanga; President of ECOWAS Commission, Marcel Alain de Souza, and CEOs and business leaders from Hauwei, Procter and Gamble, Vodacom.