FDI in Figures
Tanzania is among the preferred destinations for foreign investment in Africa. In 2014, the country was the third largest recipient of FDI in Africa, after Kenya and Uganda. FDI covered half of the country's current account deficit and approximately 6.5% of its GDP. According to the 2016 Doing Business report published by the World Bank, Tanzania ranked 139th out of 189 countries.


Investors are attracted to the country's commitment to implementing sound macro-economic policies, its effective privatisation programme and rich natural resources. However, low levels of industrial development, environmental concerns, lack of transparency and poor compliance with legislation are obstacles to investment. In 2013, the Government launched several large-scale infrastructure projects (port facilities, oil and energy production, gas liquefaction) that were carried out and financed by China (EUR 850 million for a gas pipeline) among others. The construction of the pipeline was completed in October 2015. This year, the construction of a large port in Bagamoyo was launched, at a cost of USD 11 billion. The project is jointly funded by China Merchants Holdings International and Oman Investment Fund. A number of new hydrocarbon fields have been discovered and coal reserves have grown from 1.5 to 5 billion tons. This potential should attract an increasing amount of FDI in the coming years. The mining sector, the oil and gas industry, as well as the primary agricultural products sector (coffee, cashew nuts and tobacco) draw most FDI. The United Kingdom, China, South Africa, the European Union and Canada are the country's primary investors.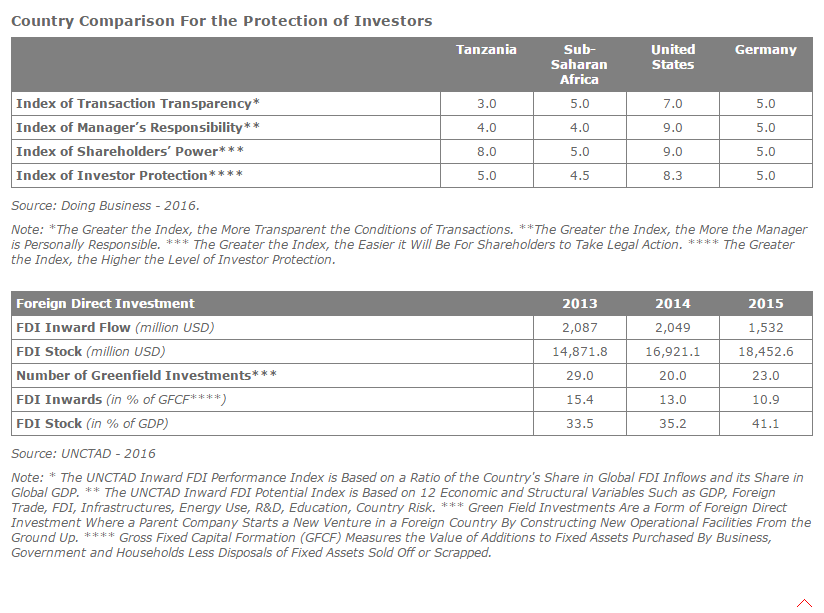 Tax Rates

Value Added Tax (VAT) 18%
Company Tax 30%
Withholding Taxes Dividends: 0/5%/10%, Interests: 0/10%, Royalties: 15%.
Social Security Contributions Paid By Employers 10%
Other Domestic Resources Consult Doing Business Website, to obtain a summary of the taxes and mandatory contributions.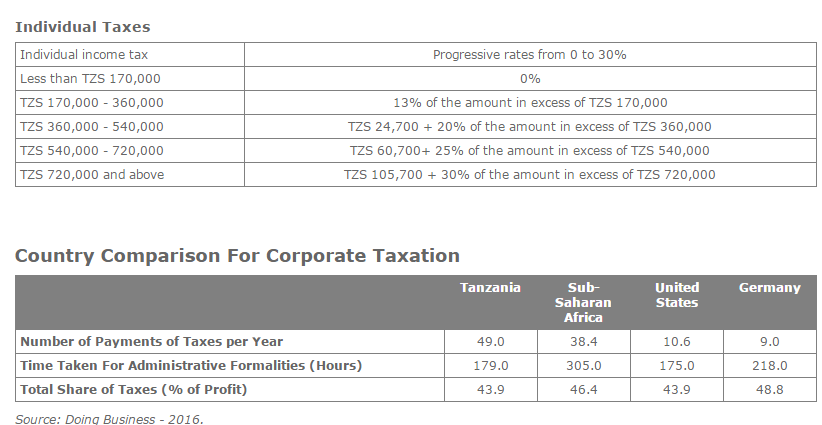 Investment Opportunities
Tenders, Projects and Public Procurement

Tenders.co, Tenders in Tanzania
Fontier Market Network, Tenders in Africa
African Tenders
DgMarket, Tenders Worldwide


Setting Up a Company

Consult Doing Business Website, to know about procedures to start a Business in Tanzania.


Useful Resources