FDI in Figures
B
efore the political crisis, Egypt was a very attractive Middle Eastern destination for FDI. The dynamic growth of the Egyptian economy (around 7% before the crisis), its strategic geographical position, low labour costs, skilled workforce, unique tourist potential, substantial energy reserves, large domestic market and the success of the reforms undertaken by the authorities (including many privatisations) all sharply drove up FDI. The regional context must also be taken into account, as Egypt benefited from abundant liquidity coming from the Gulf States.


FDI decreased as a result of the global economic crisis and later the socio-political revolution of 2011, but then it started growing again. It increased from USD 4.3 billion in 2014 to USD 6.7 billion in 2015. However, Egypt lost 19 places in the 2016 Doing Business report, published by the World Bank (131th out of 189 countries).



According to the UNCTAD 2015 World Investment Report, Egypt is one of the top five African countries in terms of attracting FDI and the largest recipient in the sub-region. FDI comes mainly from the EU, the United States and the Arab countries. The UK is the largest investor in Egypt. FDI is concentrated in the oil sector, followed by the construction, telecommunications, financial services and healthcare sectors.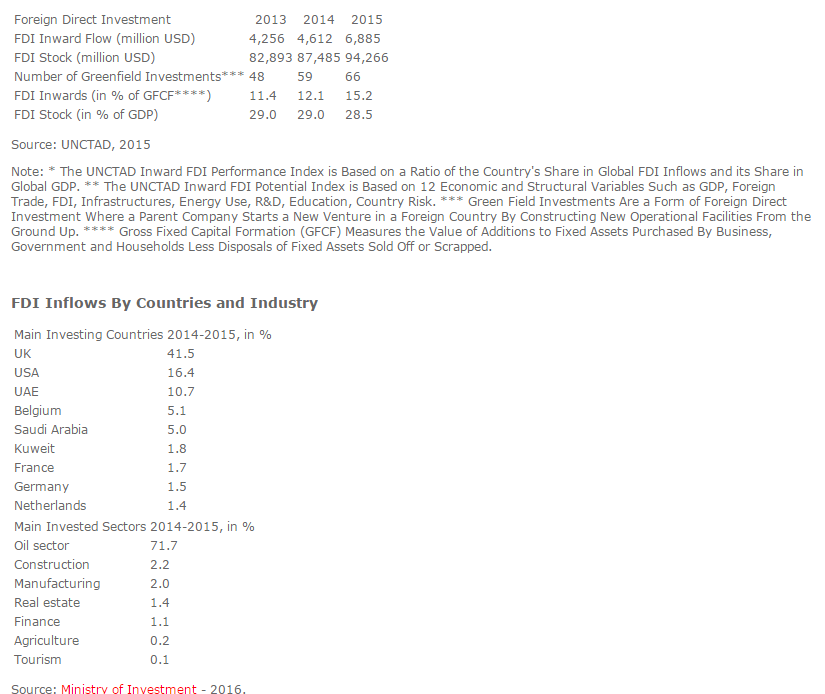 Why You Should Choose to Invest in Egypt


Strong Points:
The country is in a geographically strategic location. Moreover, it offers a cheap and relatively qualified labour force. Its growing population constitutes a non-negligible market in the region. Its energy resources are attractive and in addition, the country has in recent years, launched a public works policy (construction of the third metro line, expansion of the port of Sokhna and improvement and renovation of the rail network), which offers many investment opportunities to foreign companies. Finally, government policy for large-scale liberalisation and improving the appeal to foreign investors are encouraging signs for foreign investment.

Weak Points:
Despite privatisation, the inefficient and loss-making public sector remains ubiquitous in some sectors. In addition, rapid population growth continues to curtail the improvement of the standard of living for Egyptians. In fact, the country reports a delay in its infrastructure, which current investments are not able to make up for.

Other obstacles to investment include excessive bureaucracy, a shortage of skilled labour, limited access to credit, slow and cumbersome customs procedures and non-tariff trade barriers.

Government Measures to Motivate or Restrict FDI:
Since September 2004, the General Authority for Investment and Free Zones (GAFI) has established an economic program to attract foreign investors, together with an average reduction of 35% customs duty and tariff simplification. Though all the economic sectors are open to domestic and foreign investors, there are some that are especially targeted by the Law, which expressly provides the possibility to execute projects under the BOT (Build, Operate, Transfer) form, in the agricultural, industry, mining, tourism and hospitality, air travel, off-shore shipping transport, goods transport services, oil prospection and drilling, infrastructures more specifically for drinking water conveyance, roads, housing and used water recycling sectors. Other sectors are added to this list depending on needs (leasing, venture capital, creation of computer programs and software, etc.). Privatization programs are also open to foreign investors. Some sectors are considered strategic and hence subject to specific legislations: Aerospace, defense, and print journalism.

Following the revolution, Egypt put into place capital transfer restrictions that prevent foreign companies from sending more than $100,000 out of Egypt without a valid commercial purpose, original documentation, and approval by the Central Bank of Egypt. Investors report that it can take several weeks for legitimate transfers to be executed.