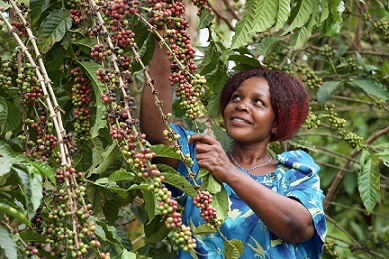 Image: Medium

Data from the Uganda Coffee Development Authority show that coffee exports in February 2019 hit a record high in nearly 28 months due to bumper harvests in central and eastern regions.

The value of coffee exports rose to $46.7m (Shs173.5bn), up 43.1% from the year before, the second annual rise in a row. The amount exported rose 46.1% year on year to 472,994 60-kilo bags, also the fastest growth in 28 months.

The figures reflect "increased production for the main season in the central and eastern regions, and a fly crop from regions south of the Equator," according to UCDA.

Behind these were favourable weather in 2019 and new trees planted several years ago that started producing, as well as "the generally dry weather which facilitated drying of the coffee."

Exports of robusta beans increased to 388,646 60-kg bags valued at $34.6m, rising 48.6% year on year in quantity and 43% in value. Arabica exports rose 36.8% to 84,348 bags valued at$12.1m, 44.3% higher than receipts a year ago.

But export earnings were down on a monthly basis, falling 3% in February, even as the volume exported was higher by 0.6%, reflecting a dip in coffee prices.

The average export price fell to $1.65 per kilo, down 1.8% from the year before and 3.4% on the month. The average price of robusta beans was $1.49 per kilo, down from $1.52 in January, while the average price of arabica beans was $2.39, lower by $0.07 compared to the previous month.

The decline in export prices in February mirrored a fall in global coffee prices, with the International Coffee Organisations' ICO composite indicator, which measures the weighted average of global coffee prices, declining 4.6% month on month to $1.02 per pound (0.45kg).

"Fears over the effect the Covid-19 [coronavirus] might have on demand, particularly for out-of-home consumption, as well as ample supplies for the remainder of the year, given that Brazil's 2020/21 crop is in the on-year of its biennial Arabica cycle, exerted downward pressure on the market,' the ICO said.

Europe was the top destination for Uganda's coffee exports in February with a 66.8% market share in volume terms, while shipments to Africa amounted to a 16.5% market share.

The single biggest destination was Italy, buying 156,911 bags or 33.2% of the total volume exported. It was followed by Sudan with a 13.3% share, Germany with 12.6%, and Spain with 11.3%.

UCDA said it expects coffee exports to come in at 430,000 bags in March as exporters continue releasing stocks in anticipation of lower prices in April, when Brazil's "on year" 2020/21 crop goes to the market.