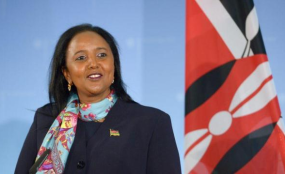 Photo: Daily News
Kenyan Foreign Affairs Minister Amina Mohamed
East Africa offers friendly investment ground for German investors that assures high rate of return than any other developing region in the world. This was said by the Kenyan Foreign Affairs Minister Amina Mohamed at the Second German- African Business Summit organized by the East African Business Council (EABC) held in Nairobi last week.
East Africa is the easterly region of the African continent, variably defined by geography or geopolitics. In the United Nations Statistics Division scheme of geographic regions, 20 territories constitute Eastern Africa, such as Tanzania, Kenya, Uganda, Rwanda, Burundi and South Sudan, etc.
The meeting that attracted over 500 participants from business and politics provided opportunity to explore new markets, meet potential business partners and discussed opportunities and challenges on the business environment in Africa.
"East Africa region is ready for and welcomes German investors to pursue investment opportunities to reap high rate of return than any other developing nation in the world," she said.
The EABC Chairman Mr Audace Ndayizeye said EABC has agreed to collaborate with the German African Business Association and other important German players as part of a 'German - East African Advisory Forum'. In addition, the German African Business Association agreed to collaborate with EABC by jointly organizing the EAC - German Business Conference by end of the year.


The European Association for Business and Commerce (EABC) is a European Trade Organisation situated in Bangkok Thailand with an objective to contribute to the improvement of trade and investment for European companies in Thailand and to increase European Trade and Investment in Thailand.

"The conference will not only look at financing for Small and Medium Enterprises (SMES) but also on which Foreign Direct Investment come from other countries to the EAC that Germany misses out" he said.
On his part, the EABC Vice Chair Kenya, Ambassador Dennis Awori said, "Regional integration offers a larger market and common laws which reduce business cost of such as stocking in each different country" The panel discussions noted that regional integration successes are susceptible to tensions of protectionism that lead to barriers denying business a larger market.
"The Custom Union and Common Market has spurred industrialization in EAC countries" said Betty Chemutai Maina, Principal Secretary of EAC Integration at the Ministry of labour and East African Affairs, Kenya.
The Chairman and Managing Director of Volkswagen Group South Africa Thomas Schaefer cited China growth successes and noted there is potential in investing in Africa and suitable polices boosts the industrialization.