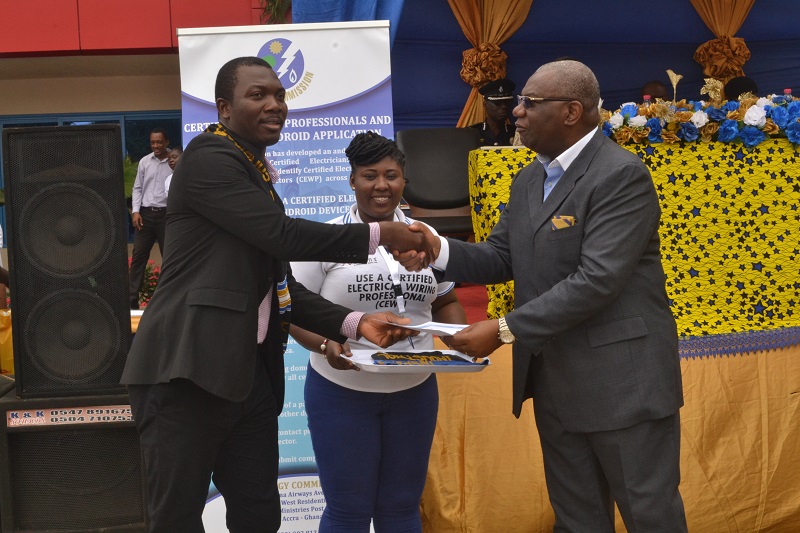 Image from www.ghanaiantimes.com.gh
The Energy Commission says it will by next month stop non-certified electricians from practising and flush out their operations to ensure the use of standardised wiring materials in all parts of the country.

This it said will be done under the full implementation of regulation four of the Electrical Wiring Regulations 2011, Legislative Instrument (L.I) 2008 effective October this year.

The full implementation of the regulation will according to the commission ensure that no electricity connection is given to a facility not wired or inspected by a certified electrical wiring professional.

The Regulation states that "Persons shall not use a material for electrical wiring unless that material is capable of maintaining the integrity of an electrical equipment or installation under environmental conditions stipulated by the manufactures of the material for electrical wiring"

Mr Solomon Sarpong, Principal Programmes Officer at the Electoral Commission said this in Accra yesterday at the passing out ceremony of 651 electrical wiring professionals and inspectors trained and certified by the Energy Commission.

The professionals who form the eight batch of electricians to be certified by the commission comprised 379 domestic electrical wiring professional, 192 commercial wiring professionals, 56 industrial wiring professionals and 24 inspectors.

"This brings to about 5,221, the number of professional electricians and inspectors certified by the Energy Commission," he said.

Mr Sarpong noted that the implementation of the electrical wiring regulation has been gradual but consistent, saying " it started with guidelines for certification, preparation of examination syllabus, examining and certifying, providing identification seals and training of certified practitioners among others,".

The Minister for Energy, Mr Boakye Agarko for his part stated that the implementation of the regulation would ensure that the Energy Commission deals with practitioners who go wayward and commit infractions in the course of their works.

"We know that Ghanaian cable and conductor manufacturers produce some of the best cables in the world and a strict implementation of the wiring regulations will not only ensure safety, it will also boost trade in made in Ghana cables and the economy," he said.

Mr Agyarko sized the occasion to launch a mobile application developed by the commission to assist the public have easy access to certified electrical wiring professional and inspectors regardless of their location in the country.

The App he said displays the picture, telephone number and other details of certified practitioners. "It can also be used to report certified professionals who misconduct themselves and rate them for their performance," he said.

The Energy Commission has also developed a mobile application to assist the public buy energy efficient refrigerators to help save energy.