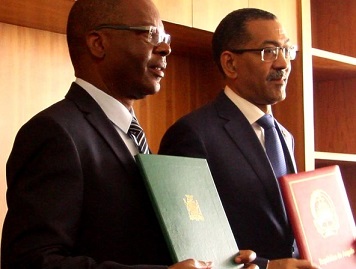 Photo from Internet

The Zambian and Angola government have signed a Memorandum of Understanding on bilateral cooperation on trade in oil and gas worth US$ 5 billion.

And Minister of Energy Mathew Nkhuwa says the equity partner in Indeni oil refinery is expected to be announced by the end of this month.Mr Nkhuwa says the process of acquiring an equity partner for Indeni through the Industrial Development Corporation (IDC) has reached advanced stage.He says move is aimed at capitalizing the petroleum refinery plant.

He says due to absolute equipment, the refinery is currently operating at 65% of its installed capacity of 1.1 million tons of feedstock per year to 600,000 tons.And Mr. Nkhuwa says government spends up to US $1 billion in importing petroleum products per annum.

He, however, notes that the price of fuel will start to reduce once Zambia finalizes the importation of petroleum products from neighboring Angola through the setting up of a pipe line.

Mr. Nkhuwa was speaking during the signing of a Memorandum of Understanding on bilateral cooperation on trade in oil and gas with Angolan Minister of Petroleum Diamantino Azevedo in Lusaka.

And Mr. Azevedo says the signing of the MoU, whose desk study value is US$ 5 billion, is the first step in achieving his Country's goal to contribute to the economies of neighbouring countries like Zambia.

Mr. Azevedo says the MoU now opens the way for Angolan companies to start the implementation of the trade in oil and gas between the two countries.He says the Angolan national oil company (Sonangol) which oversees petroleum and natural gas production will be in charge of the trade deals.