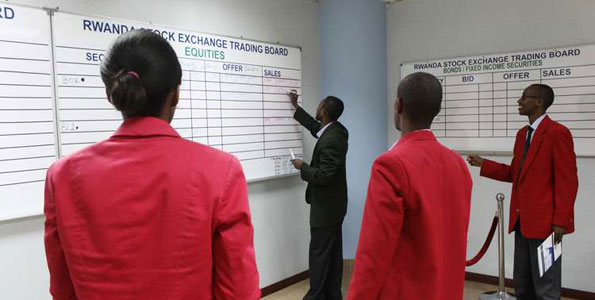 Trading on the Rwanda Stock Exchange (RSE) floor. PHOTO | FILE
By Kabona Esiara
Regional lender I&M Bank Tuesday launched its initial public offering on the Rwanda Stock Exchange, as the Rwandan government offloads its 19.61 stake in the local unit.
The bank was incorporated on 25th May 1963 as the first commercial bank in Rwanda as Banque Commerciale du Rwanda (BCR). In December 2004, BCR was privatised and acquired by Actis a pan-emerging markets private equity firm and the Government of Rwanda after recapitalization of the Company's equity, giving ACTIS 80% shareholding. On the 17th July, 2012 an 80% equity buy out of Actis by a consortium comprising of I&M bank – a Kenyan based Bank, and two European developmental financial institutions –DEG and Proparco led to a re brand of the company to I&M Bank (Rwanda) Limited

The IPO is set to run from February 14 to March 3. The shares will be selling at Rwf90 ($0.11) each. The capital markets regulator said 60 per cent of the 99 million shares on offer will be reserved for Rwandans and East African citizens. Foreign investors are expected to take up the remaining 40 per cent. Deal makers expect the offer for sale to rally business on the bearish Rwanda bourse.
"This IPO which is open to both domestic and international investors, will go a great length towards connecting the international portfolio investors to Rwanda, and indeed, enabling Rwanda to tap into the international financial markets," Rwanda's Minister for Finance Claver Gatete said during the launch.
Rwanda plans to use the proceeds from the sale to fund construction of the new Bugesera International Airport. The government targets to raise Rwf8.9 billion ($10.9 million) from its 99,030,400 shares on offer.
This is the first IPO in the region in the new year. All the four stockmarkets in East Africa — Dar es Salaam Stock Exchange, Rwanda Stock Exchange, Uganda Securities Exchange and Nairobi Securities Exchange — have been hit by low trading volumes, closing 2016 without any offer.