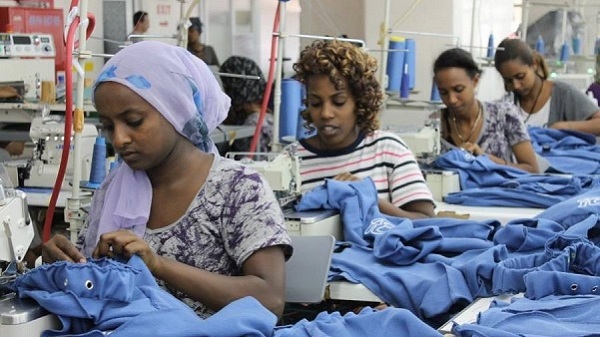 Image from http://semonegna.com

Few large
Chinese companies
, including textile and garment manufacturing industries, have decided to invest in Ethiopia in the first half of the current Ethiopian budget year. The investment has come after the Ethiopian Investment Commission (EIC) started according priority to large, effective companies that can offer more and quick employment.
Following the new strategy,
Ethiopia
has managed to attract
investment
from ten large Chinese companies, according to the Ethiopian Investment Commission commissioner Fitsum Arega. About half of these are in textile and apparel manufacturing, and this includes Jiangsu Sunshine Group, which has decided to invest nearly $1 billion in Ethiopia.
The decision by the Chinese companies to invest in Ethiopia clearly shows that the East African nation has continued to become a favorable investment destination, Fitsum Arega told Ethiopian news agency.
Speaking on the change in EIC's strategy in attracting foreign investment, Fitsum Arega said, "The ongoing direction is not focusing on increasing number of participants coming in the name of investors. Rather the country prioritized attracting some but large, effective companies which can meet the targets of both the company and the country."
Competitive wages, trainable workforce, ongoing infrastructure development, fast growing economy, government support and favorable investment climate are among the factors that attract large companies to invest in Ethiopia.
"We recommend any investor worldwide to invest in Ethiopia because of its economic, political, and social stability, which is enthused by incredible government commitment and incentives towards the textile sector," says Osman Basoglu, general manager of Etur Textile Plc, a part of Yuskel Group, on the Ethiopian Investment Commission's website.
Two new industrial parks for the textile and garment industry are set to come up in Ethiopia as the Industrial Parks Development Corporation (IPDC) of Ethiopia has awarded construction of these parks to Chinese firms. CGCOC will construct the Bole Lemi II industrial park, an extension of the Bole Lemi I, while CCCC will build the Jimma industrial park.
The Bole Lemi II Industrial Park will be constructed at a cost of 3.5 billion birr in southern part of Addis Ababa. IPDC has selected CGCOC to undertake the construction which will take 12 months, while the South Korean firm DOHWA will be the consultant of the project.