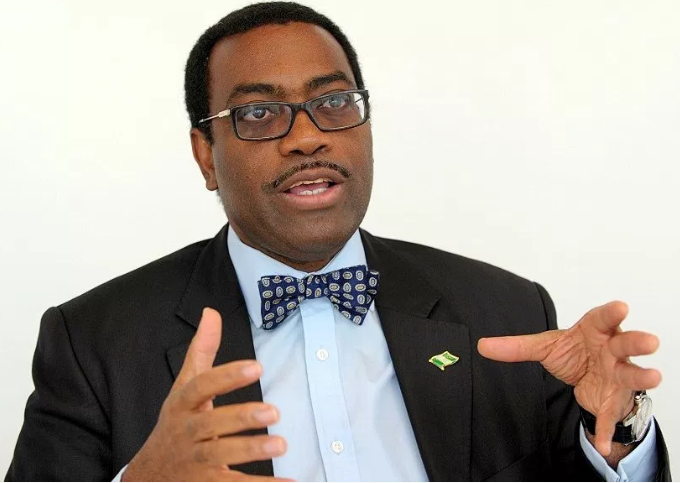 Image from www.premiumtimesng.com/news/
The African Development Bank, AfDB, plans to invest about $24 billion over the next 10 years to accelerate the realisation of the food sufficiency agenda, its president, Akinwumi Adesina, said on Tuesday.Mr. Adesina, who said the investment would be through the Bank's 'Feed Africa Strategy' would require paying attention to the implementation of plans to achieve the green revolution in Africa.

Speaking in Abidjan, Côte d'Ivoire, ahead of the 7th African Green Revolution Forum, AGRF, scheduled between September 4 and 8, 2017, Mr. Adesina said the 2017 African Green Revolution Forum, AGRF would focus on "Accelerating Africa's Path to Prosperity: Growing Economies and Jobs through Agriculture."He said the AfDB was leading a campaign to unlock the continent's food and agriculture market, projected to hit $1 trillion by 2030."We must hurry. Africa's time to become the global powerhouse for food and agriculture is now. We are already late," the AfDB President.

At AGRF 2016, Mr. Adesina said many of Africa's steadfast champions of agriculture had pledged over $30 billion in investments to increase production, income, and employment for smallholder farmers and local African agriculture businesses over the next 10 years.

The Forum would be hosted by the Alliance for a Green Revolution in Africa, AGRA, an African-led institution focused on putting farmers at the centre of the continent's growing economies, committed to investing in Africa's agricultural transformation.

AGRF's partners include the AfDB, the African Union, the African Fertiliser and Agribusiness Partnership, AFAP, AGRA, the Food and Agricultural Organization of the United Nations, FAO, and the International Fund for Agricultural Development, IFAD.

The other partners include Mastercard Foundation, the New Partnership for Africa's Development, NEPAD, OCP Africa Group, The Rockefeller Foundation, the Southern African Confederation of Agricultural Unions (SACAU), Syngenta, and YARA International.

Mr. Adesina, who noted that this year's African Green Revolution Forum was coming as some African nations were being ravaged by drought and food insecurity, said this underlined why the focus of partners should be on implementation.

He said the Forum would be an opportunity to push efforts to make Africa self-sufficient in food production and transform agriculture into a wealth-creating sector."Agriculture is booming in Africa and holds the greatest opportunity to boost African economies, build rural economies, lift millions out of poverty, and create jobs," he said.

He said the bank must work together with its partners, governments, the private sector, and development institutions to realise its objective.This year's and other interest groups to discuss the benefits to African economies of agriculture, which represents more than 70 per cent of employment.