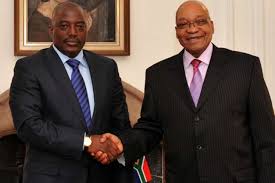 Photo by:CAJ News Africa
Kinshasa — SOUTH African companies eager to invest in the Democratic Republic of Congo (DRC) are not deterred by the political problems in the Central African nation.

Some 29 businesspeople from the Southern African country are in DRC for the of the eighth Investment and Trade Initiative (ITI) scheduled to take place in Kinshasa and Lubumbashi until November 11.

The objective of the ITI, organised by the Department of Trade and Industry (DTI), is to increase trade and deepen bilateral relations between South Africa and the DRC. Luvuyo Ndimeni, Deputy Ambassador of South Africa to the DRC, emphasised that relationships between South African and Congolese businesses were key in advancing trade relations between the two countries.

"The business community in the DRC is always keen to do business with South Africans and has over the years shown interest in collaborating and working in different sectors that can benefit both countries' economies. The contribution of business is needed to fast track the infrastructure development in the continent," Ndimeni said.

He added that he was pleased with the calibre of businesses that arrived in the DRC saying he believed they would showcase South Africa's capability considering diversity of sectors represented by different companies. Companies participating in the ITI operate in the agro-processing, built environment, mining, capital equipment, energy, chemicals, pharmaceuticals and medical equipment sectors.

The programme will include business seminars, roundtable discussions, site visits and business-to-business meetings. Prospective investors from South Africa appear unperturbed by the crisis in DRC where millions have displaced and tensions high after President Joseph Kabila extended his stay in power despite his mandate expiring in late 2016.